Montag, 8. Juli 2019
Kunstsommer 2019: Basel ∣ 2019年艺术之夏:巴塞尔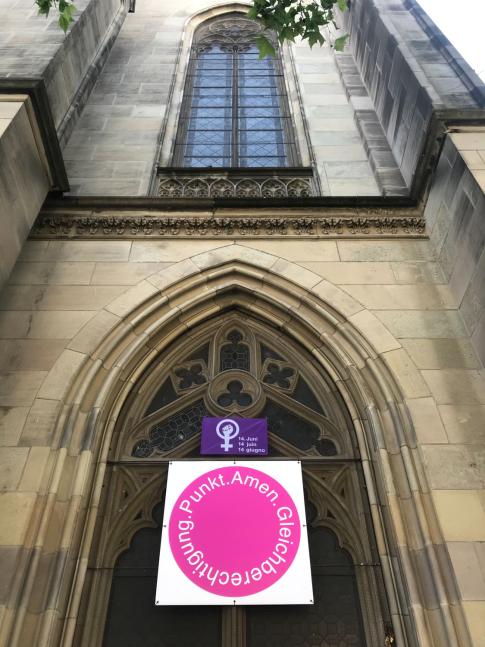 Zunächst das Wichtigste, am 14.6.2019 war in der Schweiz
Frauenstreik
, Basel war bis spät abends in lila unterwegs. Am Abend traf ich mich mit den wunderbaren Traumraum-Damen. Yuko meinte, sie habe den Tag japanisch begangen, mit einer Streik-Schärpe um den Arm arbeitend. Katharina empfiehlt die Lektüre von
Liv Strömquist: Der Ursprung der Liebe
, Berlin: Avant 2018.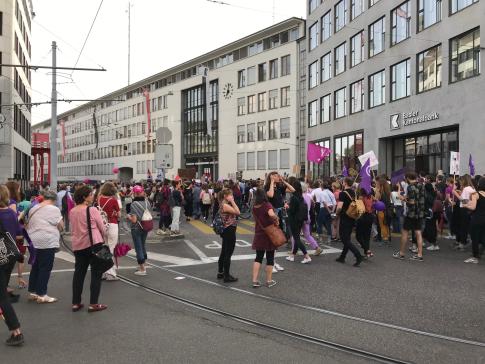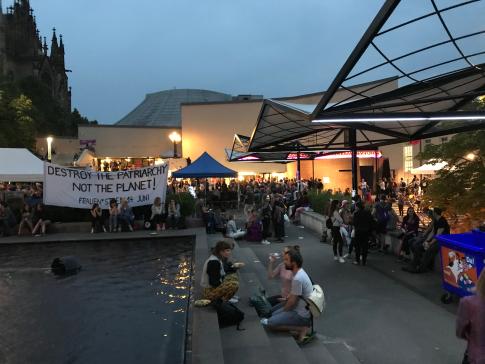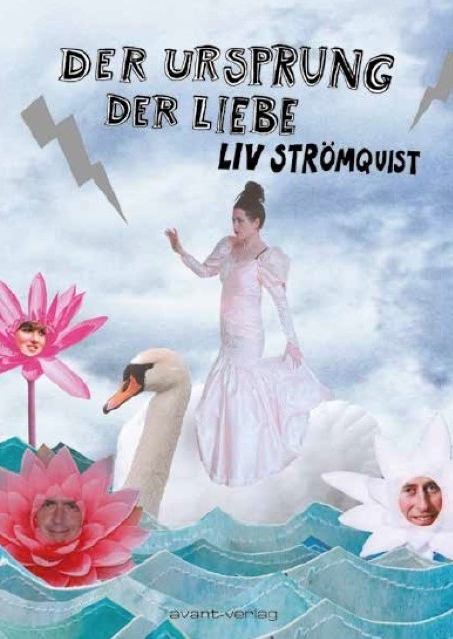 Wie meist entspricht die Reihenfolge meinem Rundgang:
Art Basel Unlimited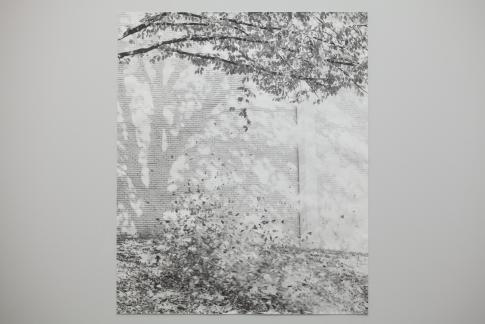 ProjecteSD, Barcelona: Jochen Lempert: Botanical Box. 2009–19.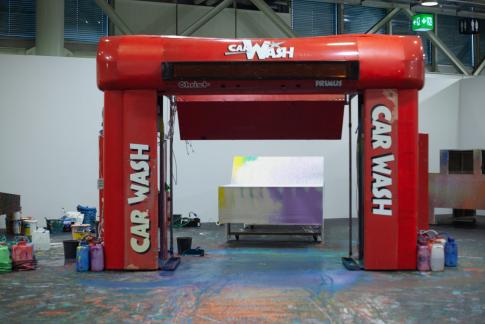 Meyer Riegger, Berlin; u. a.: Daniel Knorr: Laundry. 2019.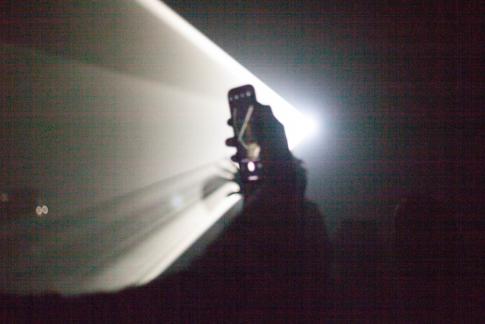 Sean Kelly, New York; u. a.: Anthony McCall: Split Second. 2018.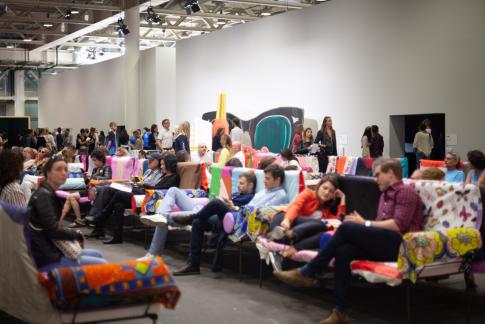 Hauser & Wirth, Zurich; u. a.: Franz West: Test (Slipcovers by Gilbert Bretterbauer). 1994.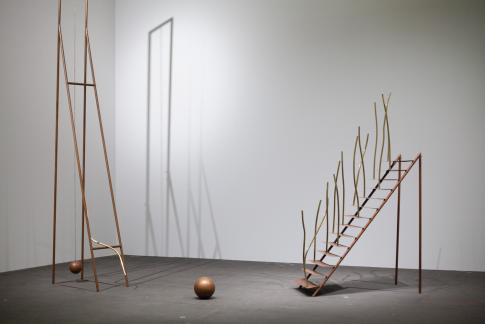 Hauser & Wirth, Zurich: Fausto Melotti: La Sibilla (The Sibyl). 1981.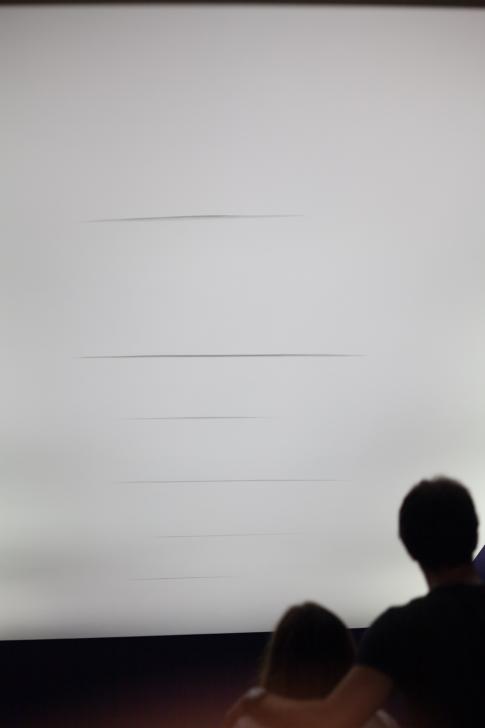 Magazzino, Rome; u. a.: Lucio Fontana: Ambiente spaziale con tagli. 1960.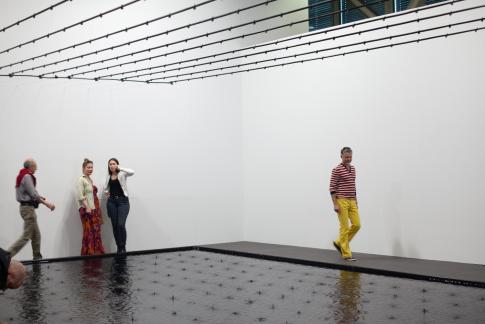 Plan B, Berlin: Belu-Simion Fainaru: Rose of Nothingness. 2015.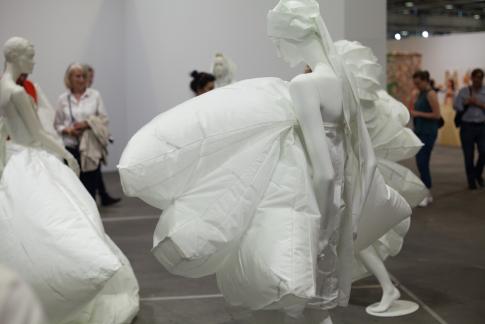 Juana de Aizpuru, Madrid: Alici Framis: LifeDress. 4 Min., 2018.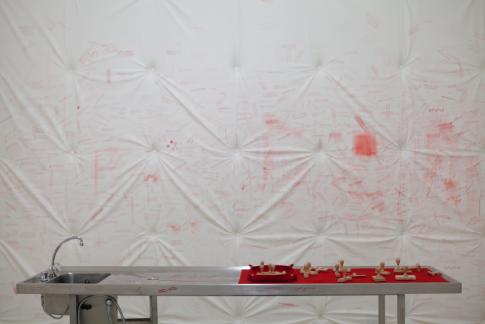 Nagel Draxler, Cologne; u. a.: Abdulnasser Gharem: The Safe. 2019.
Art Basel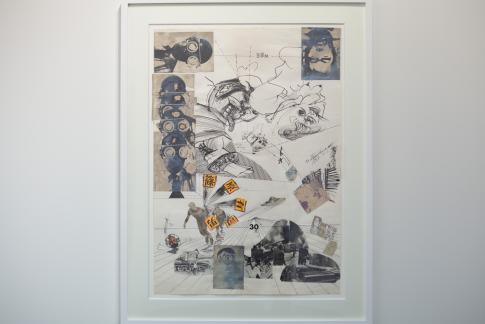 Tokyo Gallery + BTAP, Beijing/ Tokyo: Ushio Shinohara: Untitled. 1968.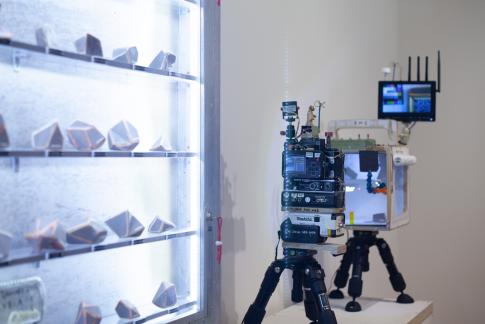 Sperone Westwater, New York: (vorne links) Tom Sachs: Synthetic Europa Rock Cabinet (Sengoku). 2019.
(Rechts) Tom Sachs: Europa Camera System. 2019.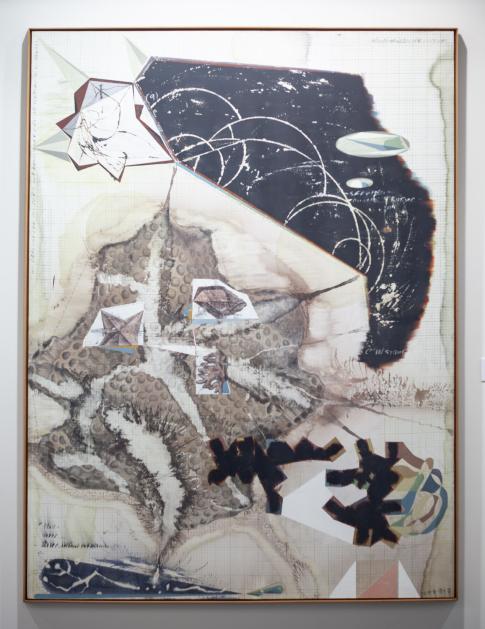 Ebd.: Jitish Kallat: Palindrome/ Anagram Painting 4. 2017–18.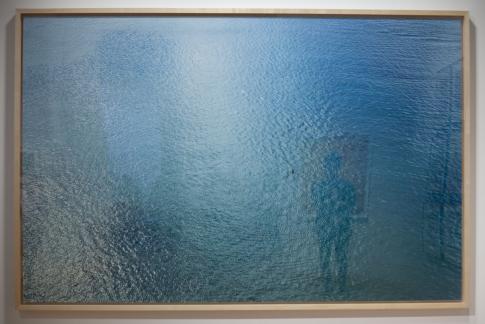 Fraenkel, San Francisco: Richard Misrach: Untitled. 2004.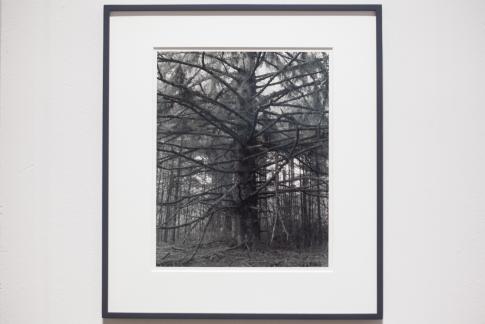 Ebd.: Robert Adams: Sitka spruce, Cape Blanco State Park, Curry County, Oregon. 1999–2000.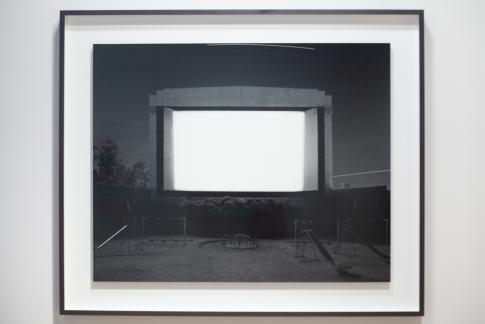 Hiroshi Sugimoto: Tri City Drive-In, San Bernardino. 1993.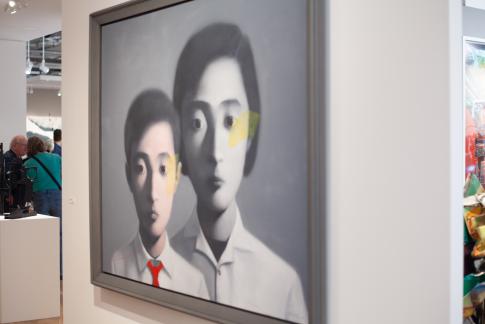 Pace, New York/ Beijing/ Hong Kong/ Seoul/ London/ Palo Alto/ Geneva: Zhang Xiaogang: Bloodline: Big Family. 2006.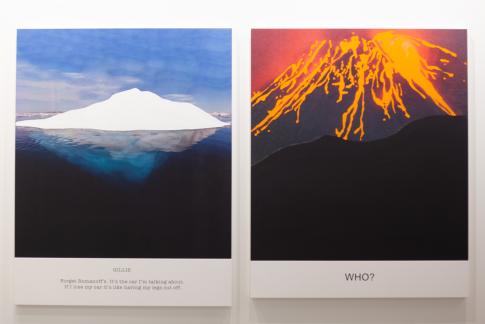 Marian Goodman, New York: John Baldessari: Hot & Cold Series: GILLIS Forget Romanoff's. WHO? 2018.
(Text: (links) "GILLIS / Forget Romanoff's. It's the car I'm talking about. / If I lose my car it's like having my legs cut off." (rechts) "WHO?")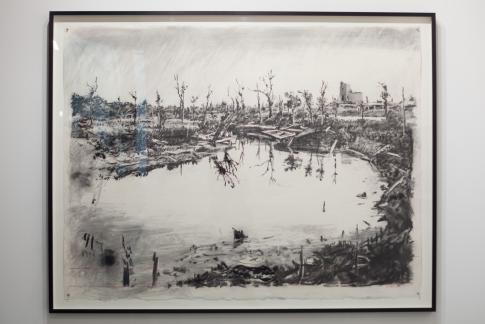 Ebd.: William Kentridge: Drawing for 'Wozzeck Opera'. 2017.
Der folgende Print hing zwei Mal in genau dieser Art (bei Annely Juda Gallery und Richard Gray Gallery), ein weiteres Mal gerahmt (bei Pace Gallery), also drei Mal und alle in derselben Größe auf demselben Stockwerk der Art Basel. Auf meine Nachfrage bei einer der Galeristinnen, ob man sich denn nicht absprechen würde, kam nur ein verschmitztes Grinsen. Was sollte sie auch sagen? Zum Beispiel: Passt doch zur Spiegelung in Hockneys Bild: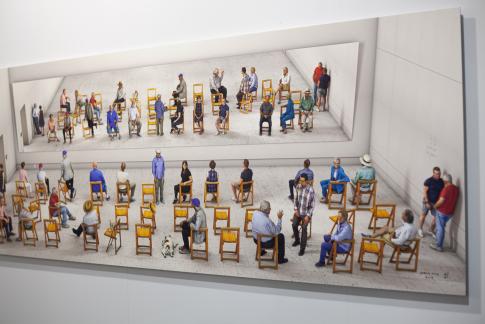 Annely Juda, London: David Hockney: Pictured Gathering with Mirror. 2018.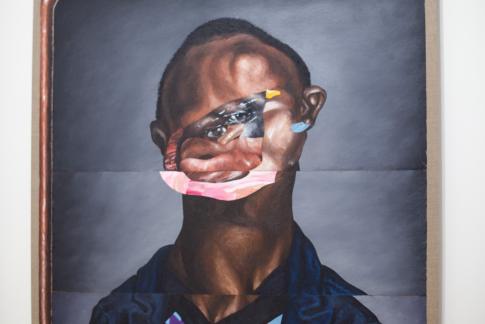 Gagosian, New York/ Beverly Hills/ San Francisco/ London/ Paris/ Geneva/ Rome/ Athens/ Hong Kong/ Basel: Nathaniel Mary Quinn: Sinking. 2019.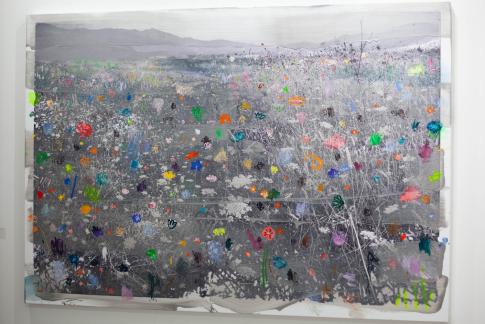 Max Hetzler, Berlin/ Paris/ London: Ida Tursic und Wilfried Mille: Multicolored landscape. 2019.
Ebd.: Glenn Brown: The Baptist. 2018.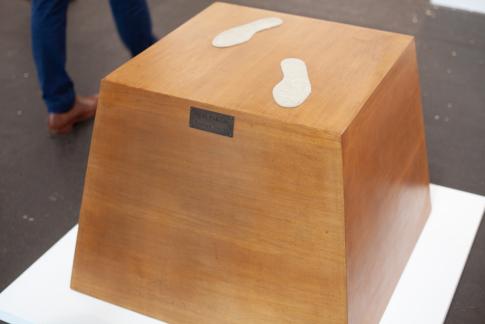 Michael Werner, New York/ London/ Märkisch Wilmersdorf: Piero Manzoni: Magic Base – Living Sculpture. 1961.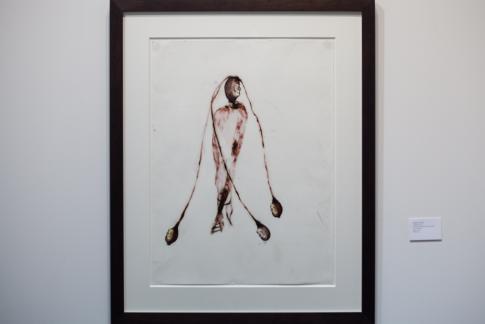 Ebd.: Enrico David: Untitled. 2017.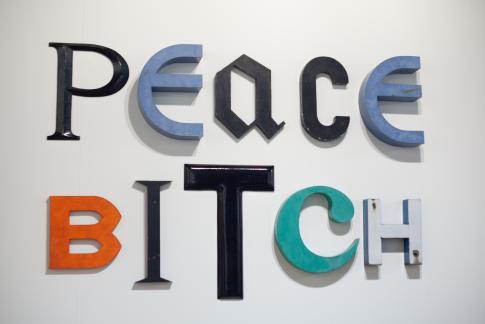 Cheim & Read, New York: Jack Pierson: PEACE BITCH. 2019.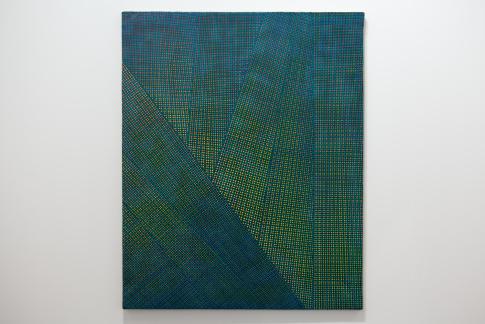 Invernizzi, Milan: Spazio totale. 1955.
Kewenig, Berlin/ Palma de Mallorca: Leiko Ikemura: Vogelmensch (Bird-Being). 1992/ 2018.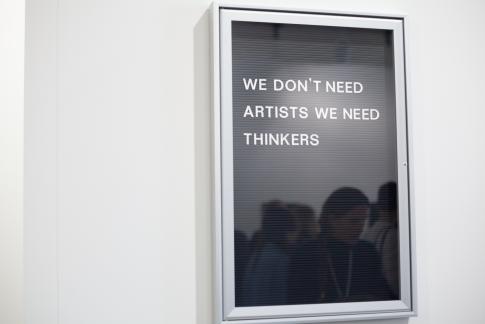 Tschudi, Zuoz: Bethan Huws: Untitled (We don't need artists we need thinkers). 2019. (Schräg fotografiert, weil ich nicht zustimme, wir brauchen natürlich beides.)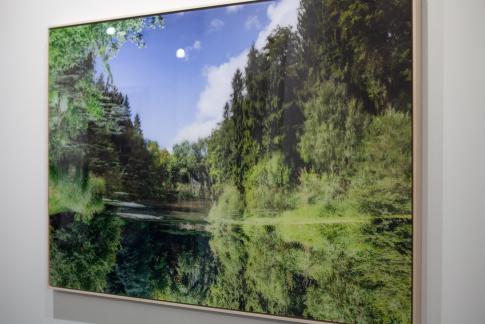 Ebd.: Su-Mei Tse: Reflection Nr. 2 (in collaboration with Jean-Lou Majerus). 2017.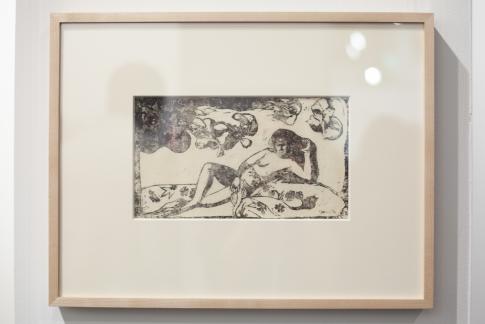 Bernard Jacobson, London: Paul Gauguin: La femme aux mangos – Fatigué. 1989.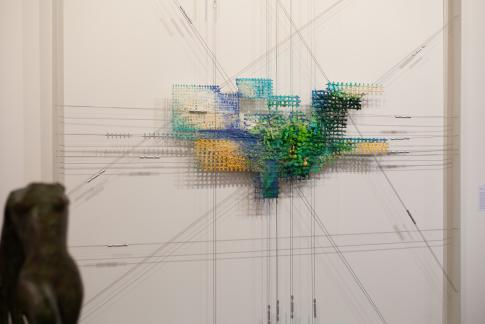 Ebd.: William Tillyer: Study No. 1 – The Cornfield. 2019.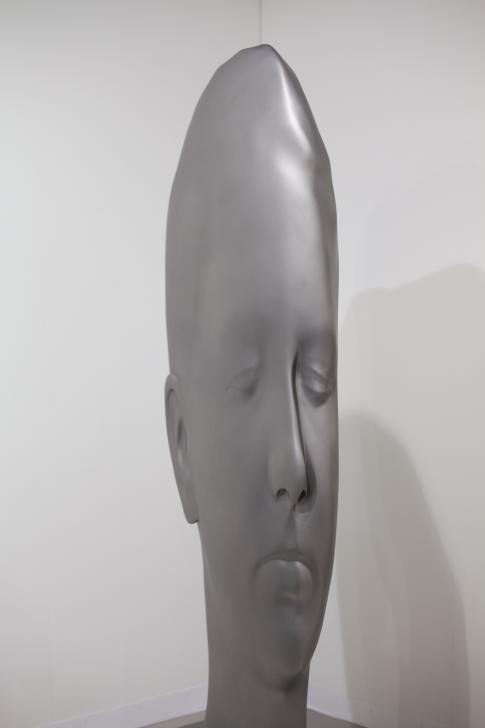 Lelong & Co., Paris: Jaume Plensa: Duna. 2018.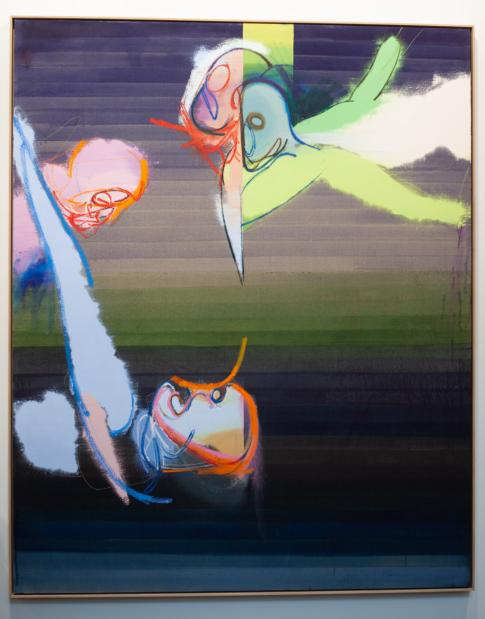 Thaddaeus Ropac, London/ Paris/ Salzburg: Daniel Richter: Interior Living. 2018.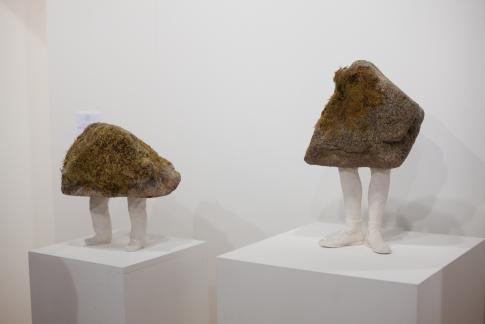 Ebd.: Erwin Wurm: Stone. 2019.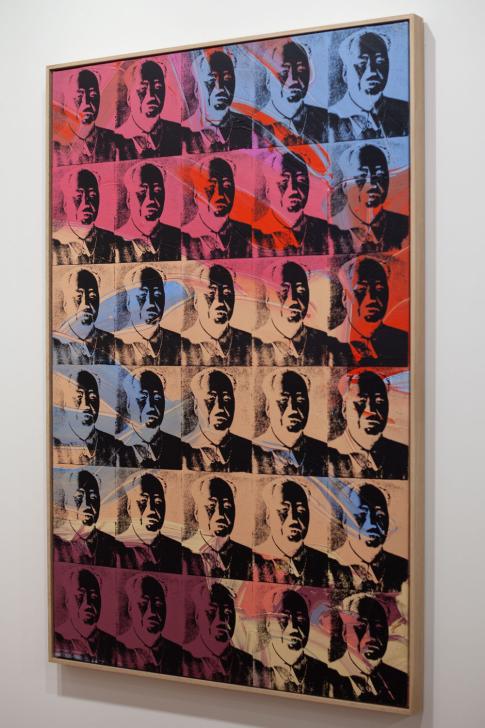 Ebd.: Andy Warhol: 30 colored Maos (Reversal Series). 1980.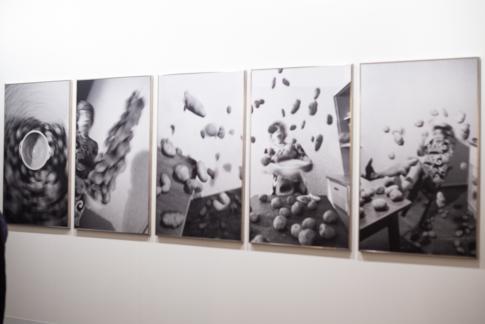 Buchmann, Berlin/ Lugano: Anna & Bernhard Blume: Küchenkoller (Kitchen Frenzy). 1985/ 2016.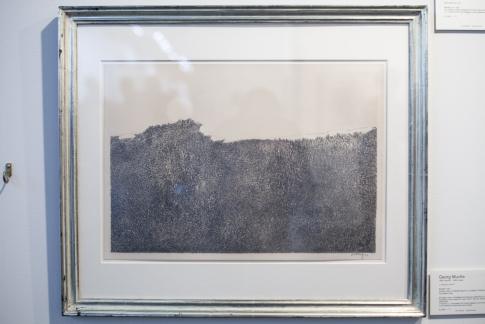 Jörg Maass, Berlin: Georg Muche: Landschaft. 1947.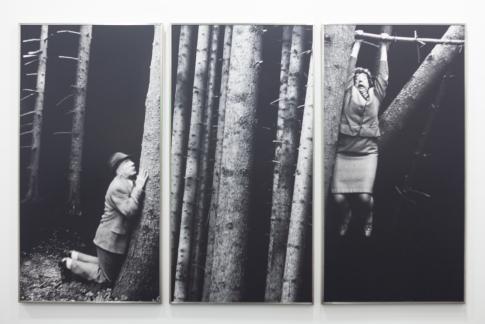 Peter Freeman, New York/ Paris: Anna & Bernhard Blume: Gebet im Wald. 1990–91.
Ebd.: Charles Ledray: Life Vest / Hotel Manhattan. 2018.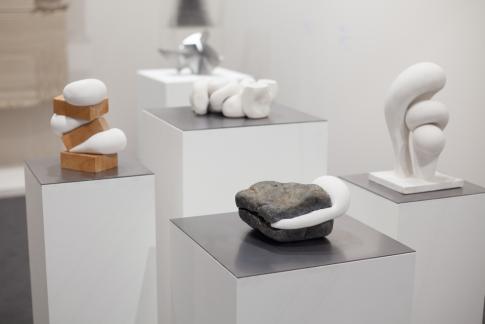 Alison Jacques, London: Maria Bartuszová: Untitled. 1972–84.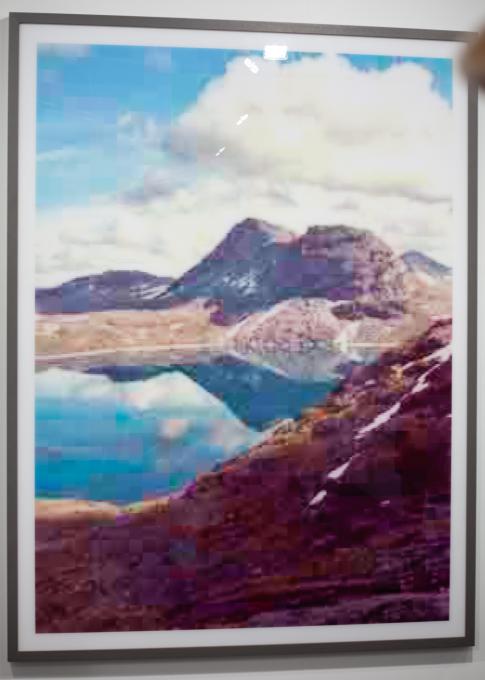 Konrad Fischer, Berlin/ Dusseldorf: Thomas Ruff: jpeg nll01. 2005.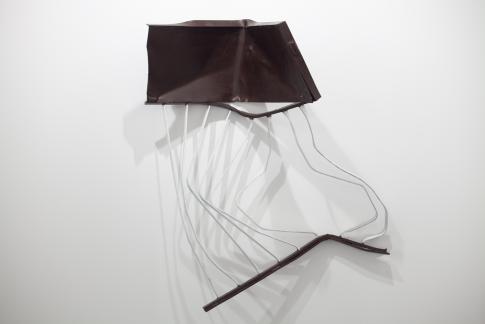 Bärbel Grässlin, Frankfurt: Meuser: Ohne Titel. 2019.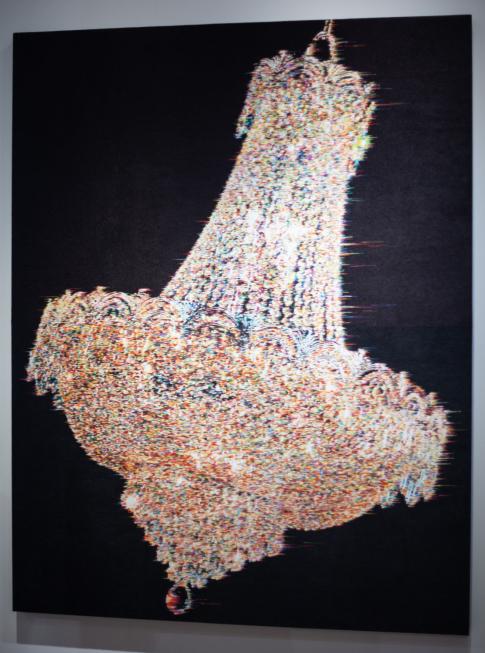 Kukje/ Tina Kim, Seoul/ Busan/ New York: Kyungah Ham: What you see is the unseen / Chandeliers for Five Cities SK 03–02. 2018. (Hier einmal die "Materialien", da sehr bezeichnend für Kunstmessen und die (von den Galeristen aufgepropften, eingeforderten) Wünsche der Kundschaft: "North Korean hand embroidery, silk threads on cotton, middle man, smuggling, bribe, tension, anxiety, censorship, ideology, wooden frame, approx. 1900hrs/1person" – meine Ideologie lacht, schüttelt den Kopf, schämt sich fremd, dreht sich im Kreis, schämt sich für sich selbst, kurz, mit Fragezeichen, aber das könnte fast ernst gemeint sein, meine Güte, knipst, geht weiter.)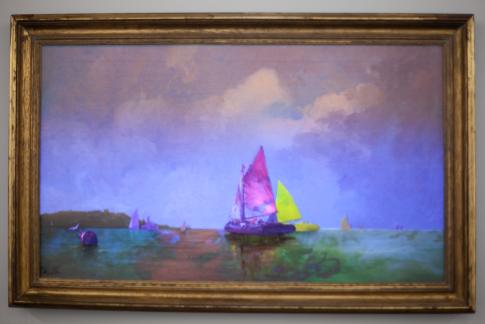 Luhring Augustine, New York: Filmstill.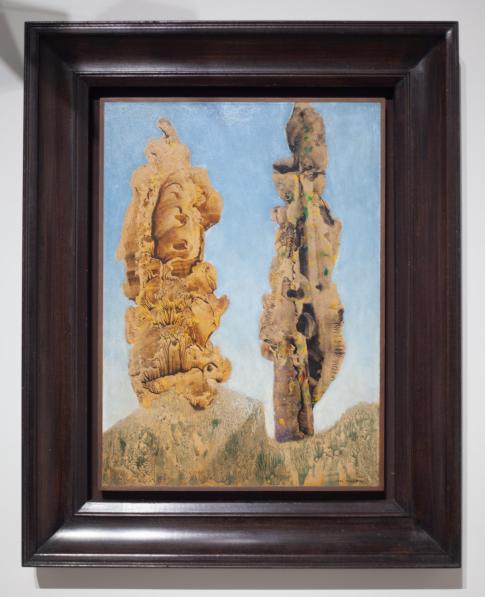 Thomas, Munich: Max Ernst: Les peupliers. 1939.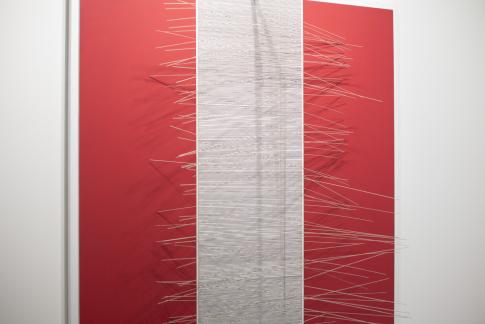 von Bartha, Basel/ S-chanf: Jesús Rafael Soto: Double Andalou. 1968.
Erneut eine Doppelung, aber sehr schön: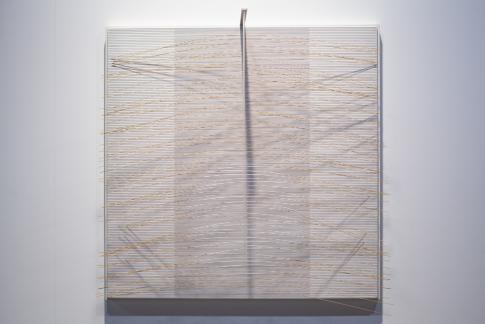 Elvira González, Madrid: Jesús Rafael Soto: Vibración Círculo blanco. 1991.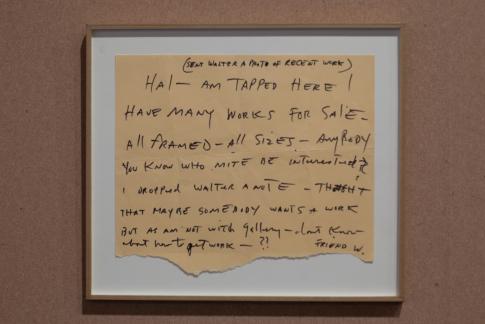 frank elbaz, Paris/ Dallas: Wallace Berman.
Anthony Meier, San Francisco: Gerhard Richter: Geseke (637–3). 1987.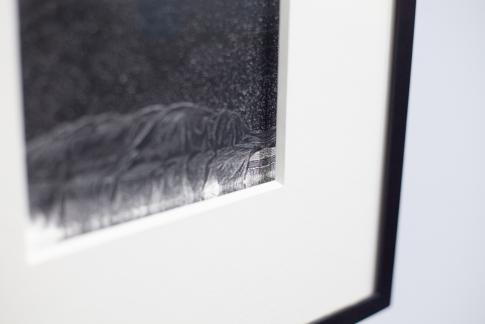 O. A., nur formal: Gute Idee, Bild im Passepartout fliegend mit Abstandshalter aus Spiegelglas.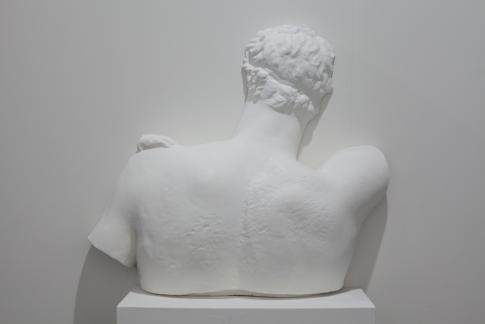 Christian Stein, Milan: Giulio Paolini: Intervallo. 1985–86.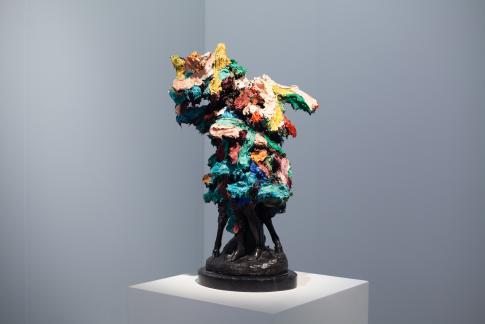 Hazlitt Holland-Hibbert, London: Glenn Brown: Romantic Movement. 2014.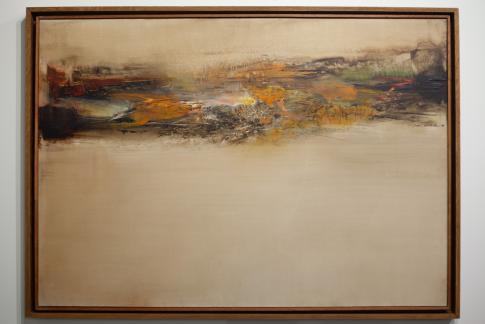 Waddington Custot, London: Zao Wou-Ki: 30.10.64–11.04.78. 1964–78.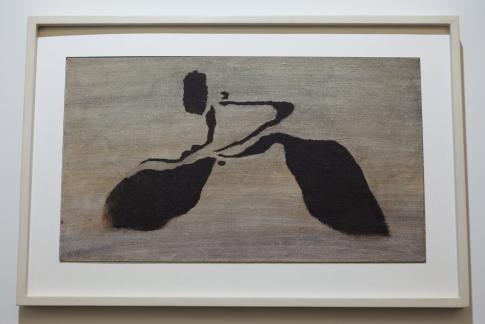 Kicken, Berlin: Willi Baumeister: Läufer Vallttorta (Runner Valltorta). 1934.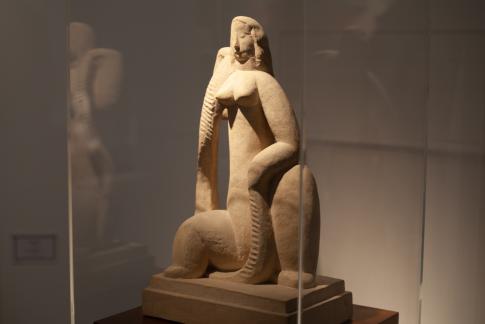 Landu, Montreal/ Meggen: Henri Laurens: Femme à la draperie. 1931.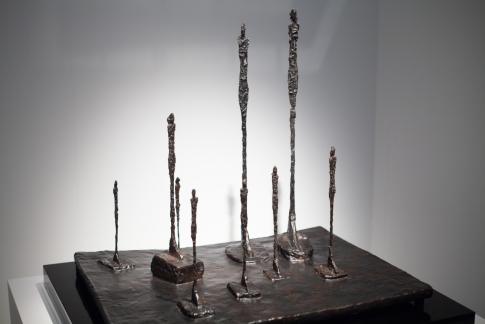 Ebd.: Alberto Giacometti: La clirière. 1950.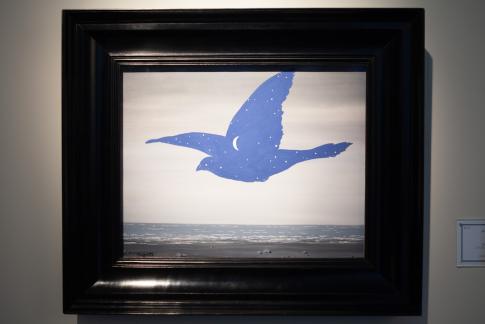 Ebd.: René Magritte: Le baiser. Ca. 1957.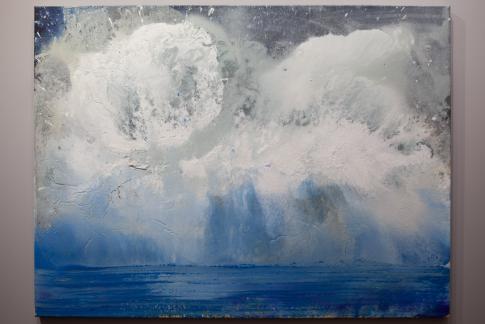 Acquavella, New York: Miquel Barceló: La Mar, il Mare. 2018.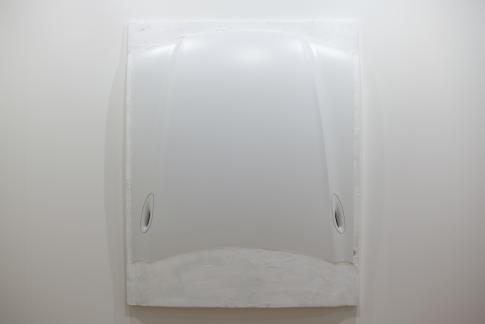 Gladstone, New York/ Brussels: Richard Prince: Untitled. 2013–15.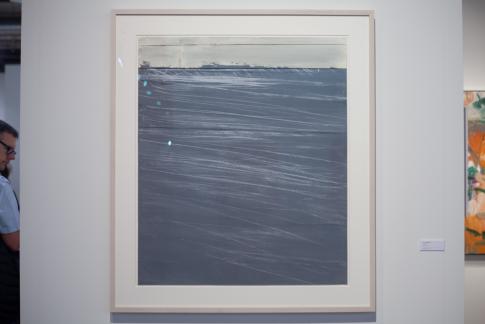 Mnuchin, New York: Cy Twombly: Untitled. 1969–71.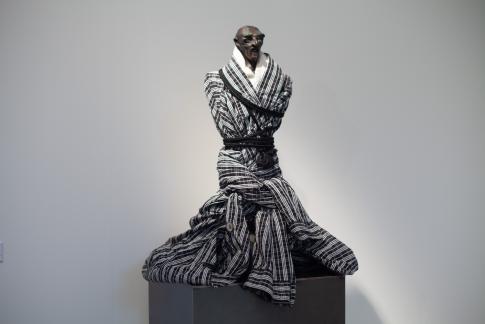 Ebd.: Thomas Schütte: Vater Staat, dressed. 2010.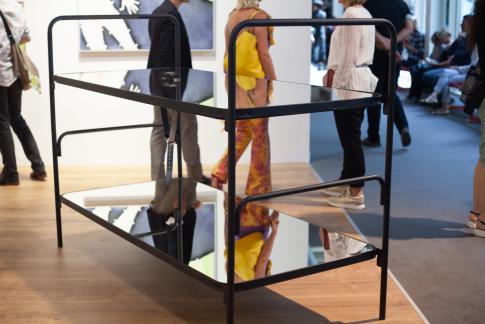 Mitchell-Innes & Nash, New York: Monica Bonvicini: Double Trouble. 2018.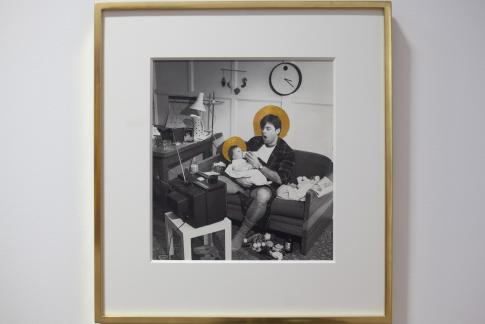 Ebd.: General Idea: Rude Awakening (With Gold Halos). 1982.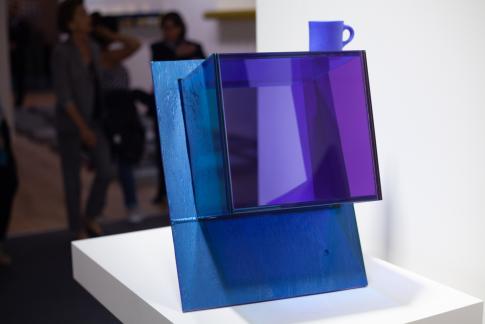 Ebd.: Sarah Braman: Blue coffee. 2019.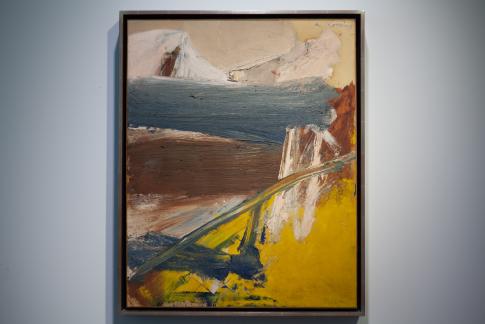 Richard Gray, Chicago/ New York: Willem de Kooning: Untitled. 1958.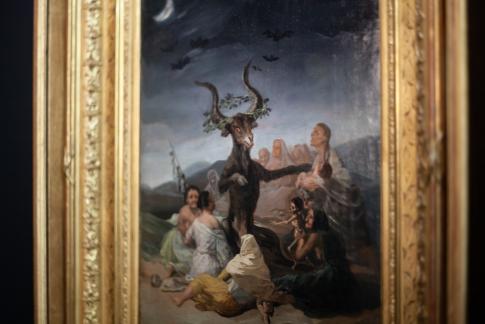 Fondation Beyeler, Riehen: Francisco de Goya: Witches' Sabbath (El Aquelarre). 1797–98.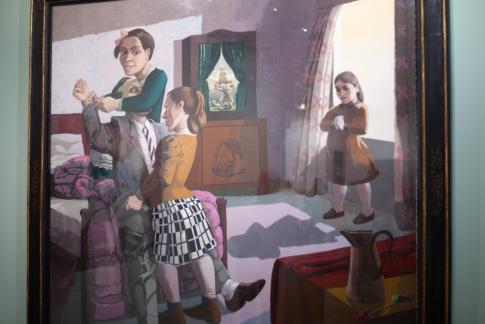 Marlborough, London/ New York: Paula Rego: The Family. 1988.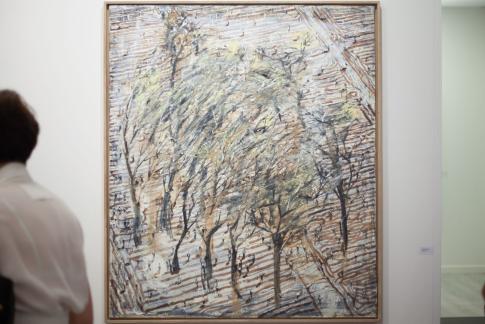 Georg Nothelfer, Berlin: Thomas Hartmann: Nach Plan. 2005/ 2018.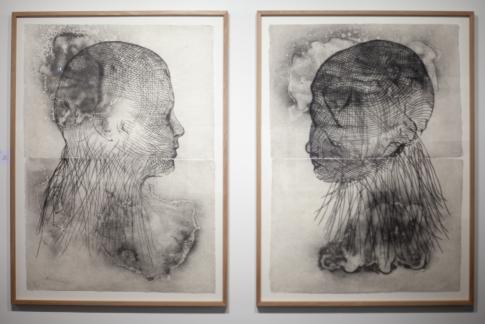 Polígrafa, Barcelona: Jaume Plensa: Without title. 2019.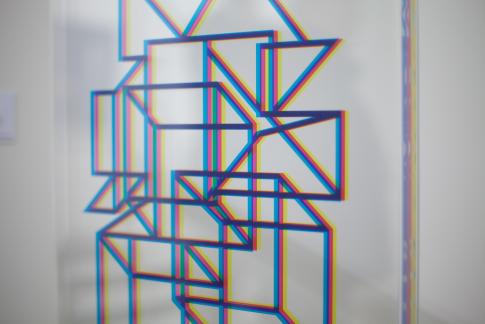 Fanal, Basel: Pol Bury: Cubes en profondeur. 1999.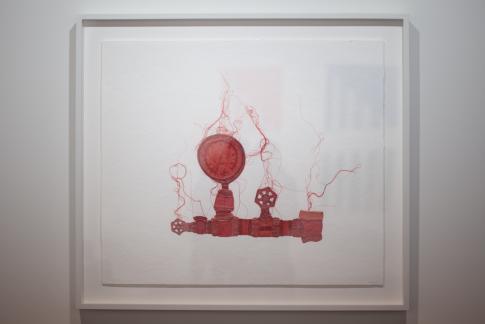 STPI, Singapore: DoHoSuh.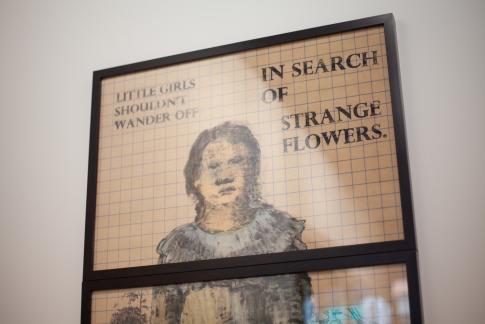 Lelong Editions, Paris: Nalini Malani: Little girls shouldn't wander off. Detail, 2017.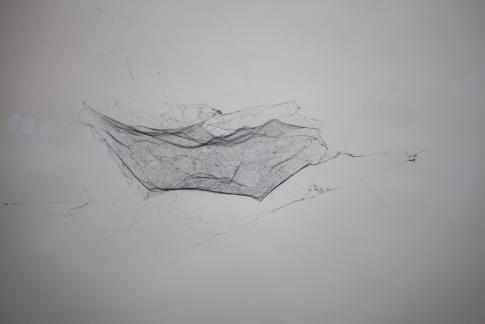 Esther Schipper, Berlin: Tomás Saraceno: Semi-social mapping of Q2345+007B by a solo Cyrtophora citricola – one week. 2017.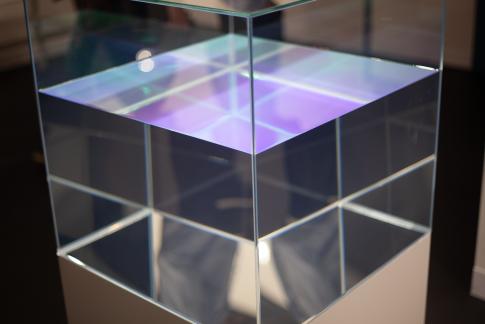 Ebd.: Ann Veronica Janssens: Blue Hawaii. 2018.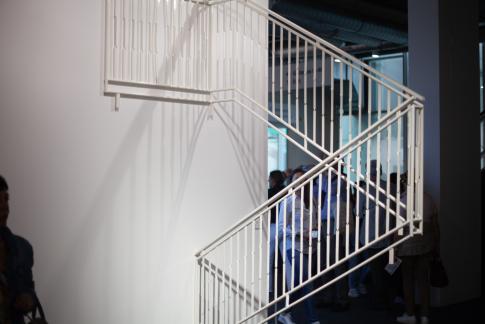 Ebd.: Roman Ondak: Leap. 2012.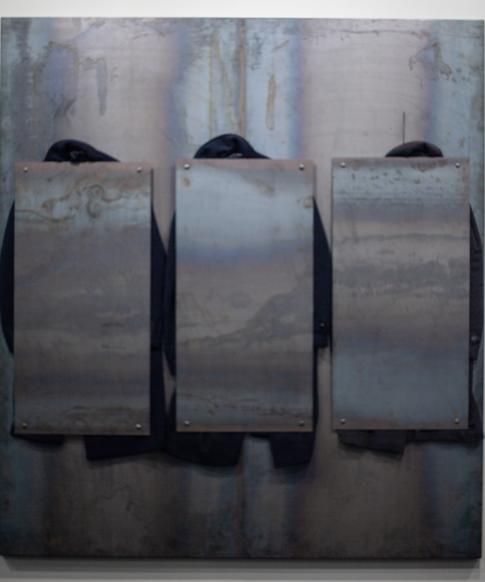 Gavin Brown, New York/ Rome: Sturtevant: Stella Kingsbury Run (Second Version). 1989.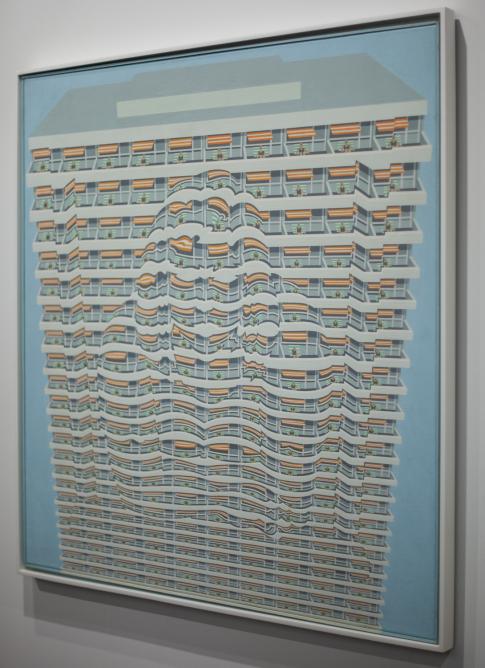 Ebd.: Thomas Bayrle: Retired Woman. 1973.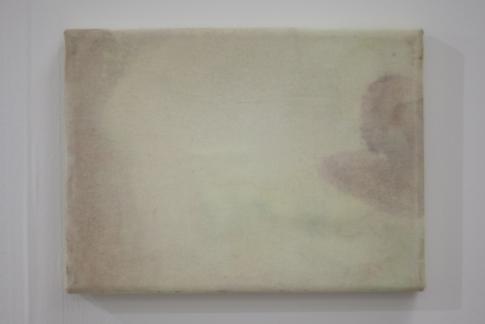 The Modern Institute, Glasgow: Cathy Wilkes: Untitled. 2016.
Ebd.: Martin Boyce: Lost Light 5020. 2018.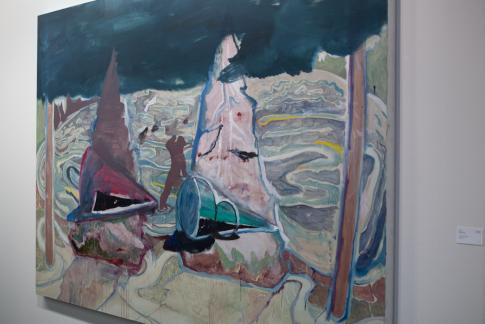 ShanghART Beijing/ Shanghai/ Singapore: Zhao Yang 赵洋: Roma Is a Lake 180119. 2018. (S. a.
BJ: Kunst im Frühjahr 2019
, ShanghArt 香格纳画廊.)
Nach der Komplettaussiedelung des Künstlerviertels Huantie 环铁艺术区 scheinen einen Tag später nun auch Teile des Künstlerviertels Roma Lake 罗马艺术区 abgerissen worden zu sein, derweil Caochangdi bunte Wandmalereien, Kringel und volksmotivierende Sprüche, bekommen haben soll (Stand: 10.7.2019).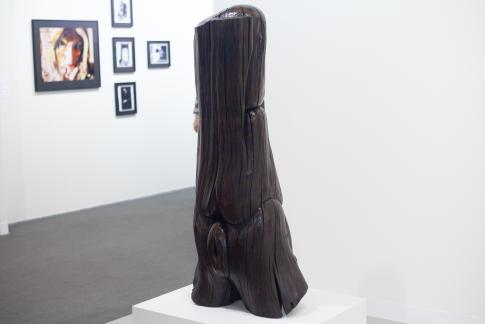 Nathalie Obadia, Brussels/ Paris: Wang Keping: Adam et Eve. 2006.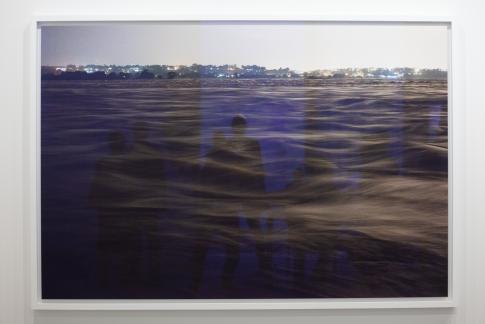 Maureen Paley, London: Wolfgang Tillmans: Congo night (b). 2018. (Durch die Spiegelungen auch davor nicht uninteressant.)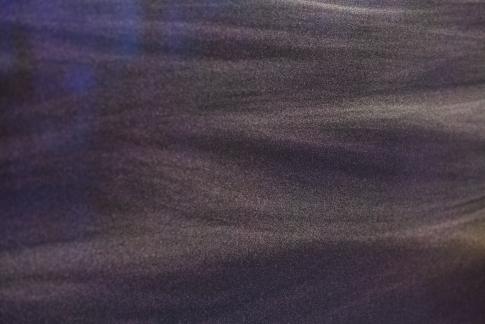 Ebd., Detail.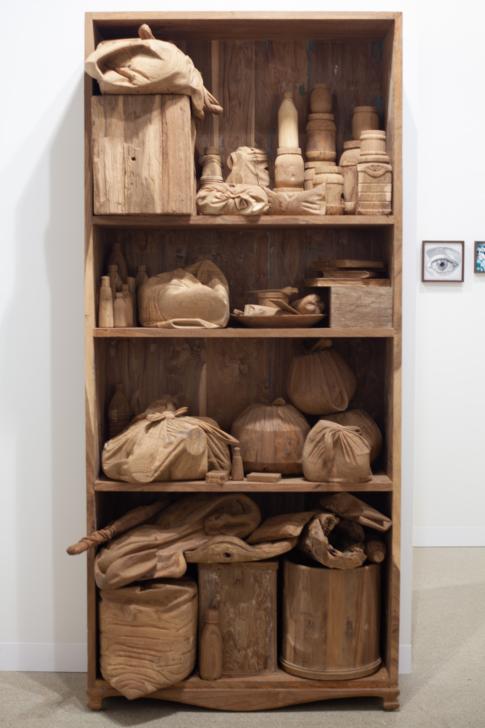 SKE, Bangalore/ New Delhi: Sudarshan Shetty: Personal Effects.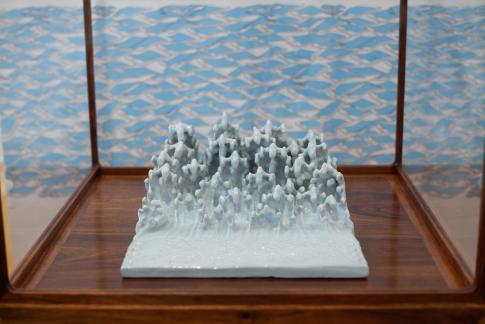 neugerriemschneider, Berlin: O. A.
Fortes D'Aloia & Gabriel, Rio de Janeiro/ São Paulo: (Wand) Jac Leirner: 120 Levels. 2018.
(Vorne) Iran do Espírito Santo: Fixed Base. 1 von 4 Teilen, 2016.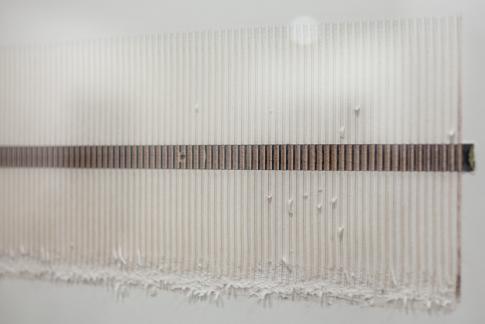 303 Gallery, New York: Alicja Kwade: Meta-Meter. 2018.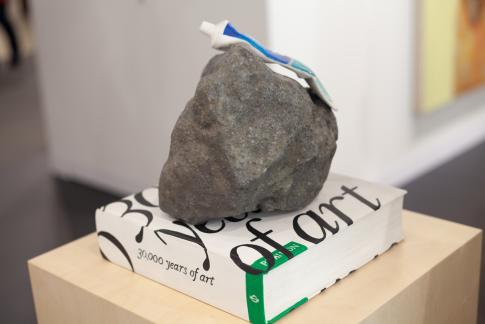 Blum & Poe, Los Angeles/ New York/ Tokyo: Matt Johnson: Untitled (Sunbather). 2019.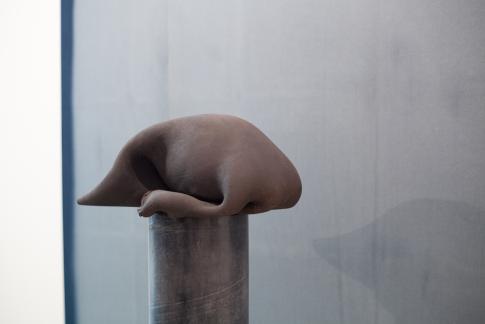 Meyer Riegger, Berlin/ Karlsruhe: Katinka Bock.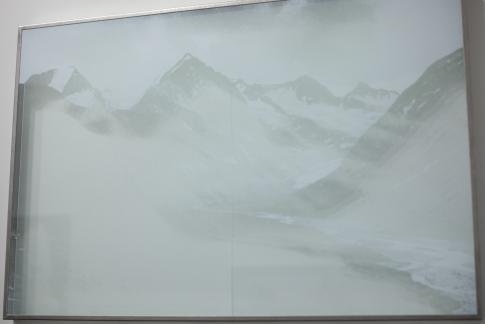 Krinzinger, Vienna: Eva Schlegel: Ohne Titel (056). 2005.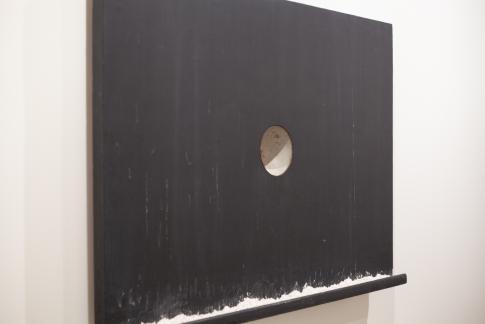 Martin Janda, Vienna: Roman Ondak: The Sun. 2018.
Hier hingen ziemlich viel alte Arbeiten, nichts gegen, aber man fragt sich doch, ob die Galerien am Ausmisten sind oder klamm, ob sie sich nicht an Neues trauen und wenn warum – oder tendieren wir wieder zur Tradition?
Liste Basel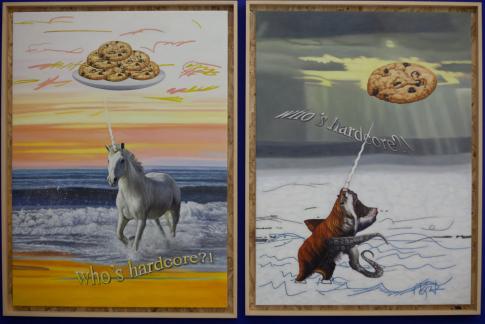 MadeIn, Shanghai: Solo Show: Miao Ying.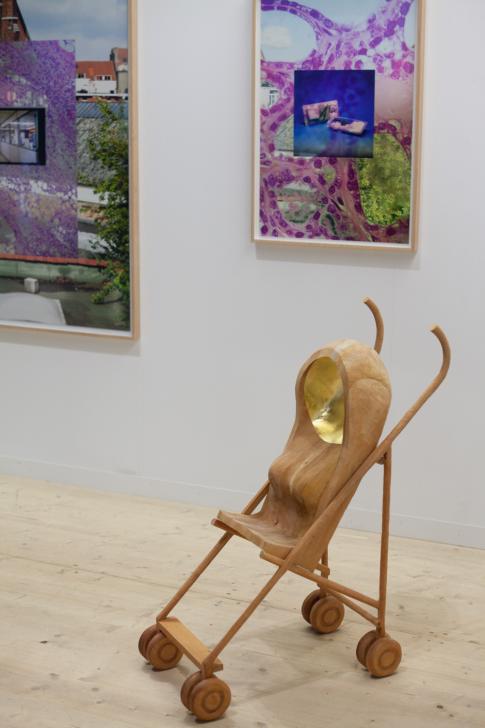 Clearing, New York/ Brussels: (Wand) Marina Pinsky, (vorne) Hugh Hayden.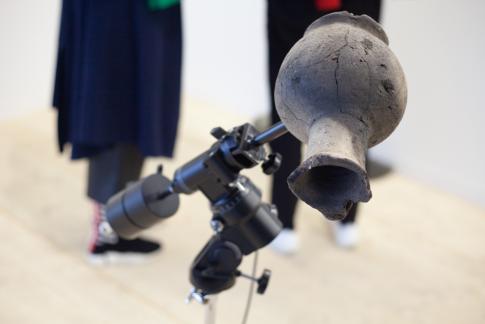 80M2 Livia Benavides, Lima: Oscar Santullán: Mirror. 2019.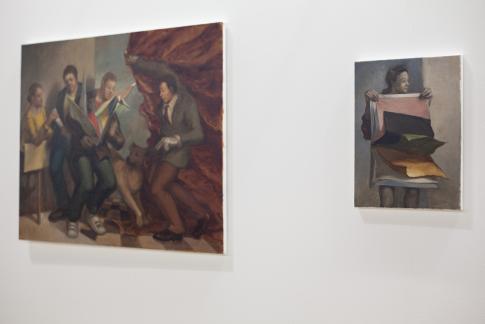 mor charpentier, Paris: Chen Ching-Yuan: (v. l. n. r.) Paper Crane. 2019.
Card Stunt II (The Next Page). 2018.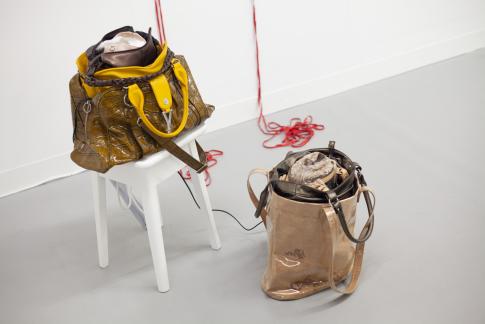 Raster, Warsaw: Dominika Olszowy: Fountain. 2019.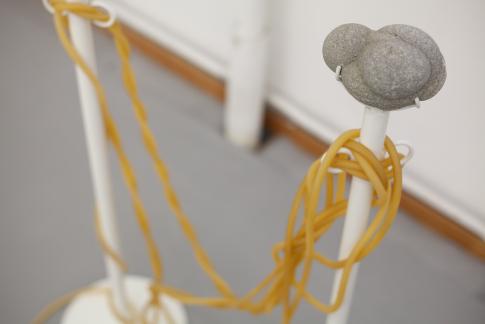 Sabot, Cluj-Napoca: Nona Inescu: Venae Cavae (working title). 2019.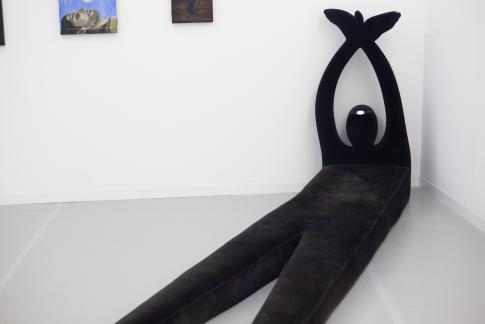 Federico Vavassori, Milan: O. A.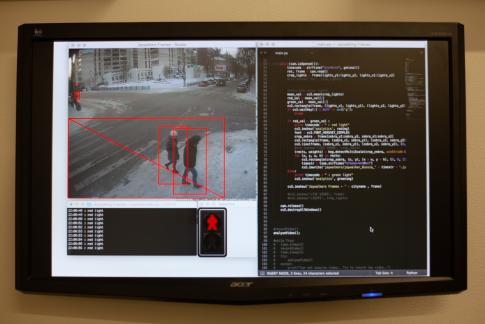 Haus der elektronischen Künste, Basel: Dries Depoorter: Jaywalking Frames.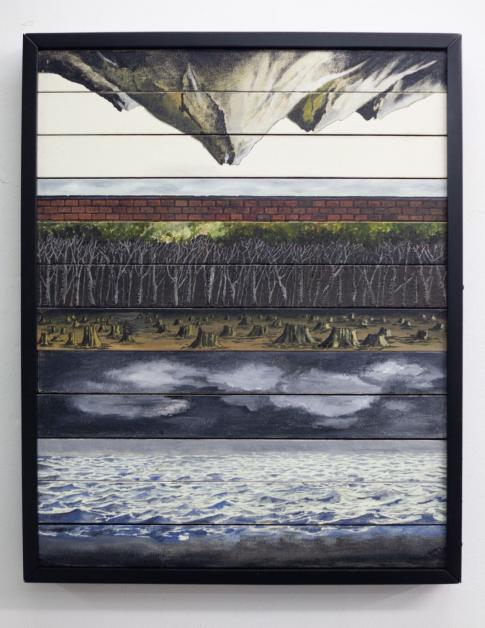 ROH Projects, Jakarta: Solo Show: Aditya Novali. 2019.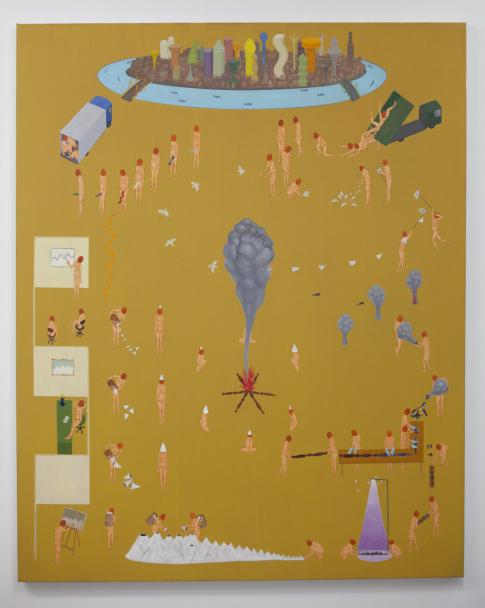 Proyectos Ultravioleta, Guatemala City: Akira Ikezoe und Radamés "Juni" Figueroa: A Room Full of Coconuts.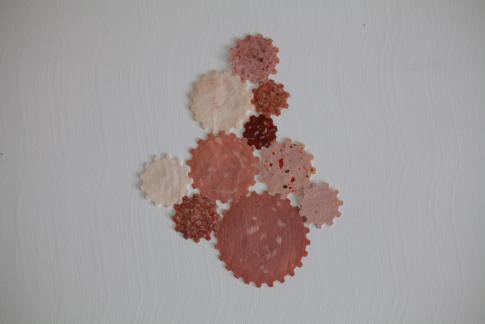 Sé, São Paulo: Solo Show: João Loureiro.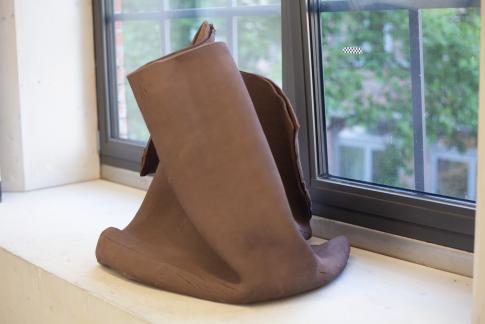 Gregor Staiger, Zurich: Sonia Kacem.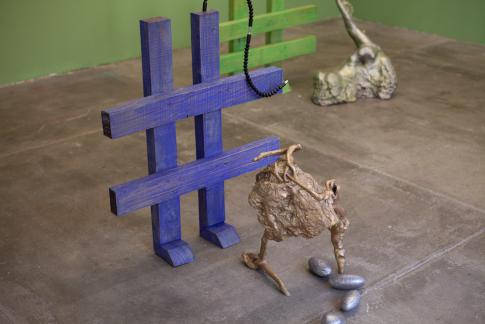 Antenna Space, Shanghai: Guan Xiao: Chicken House. 2019.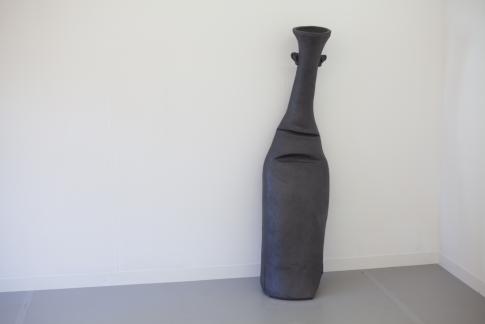 Helvetia Art Prize winner: Kaspar Ludwig.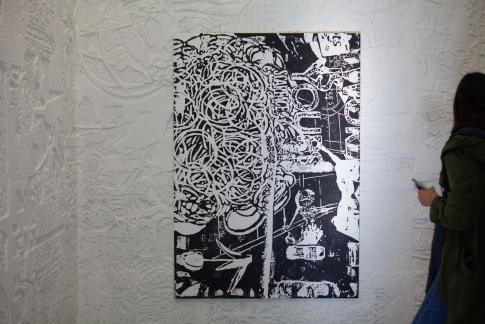 Good Weather, North Little Rock: Solo Show: Ron Ewert.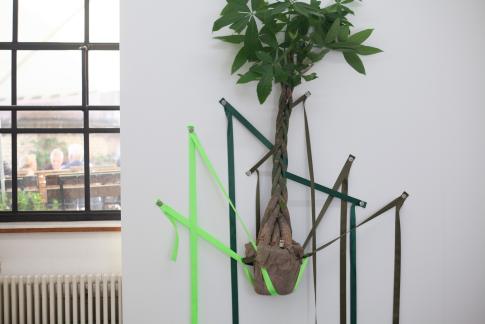 Allen, Paris: Solo Show: Trevor Yeung.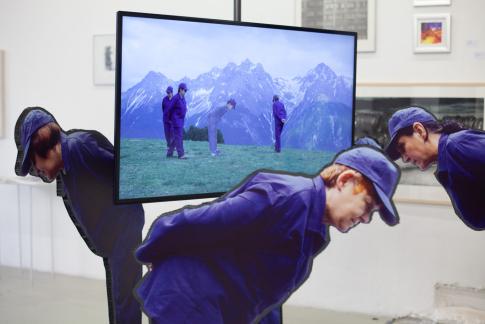 Culturinstitut AM contemporary, Basel: EDGE Women Group, Albena Mihaylova, Monika Romenska, Nadja Genova und Veneta Marinova.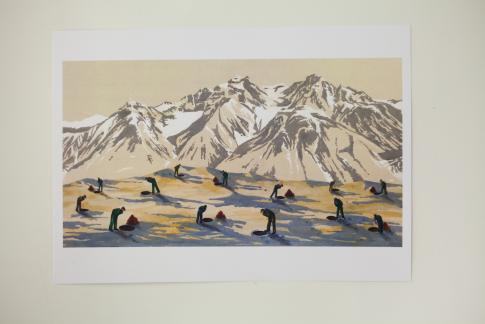 Ebd.: Monika Romenska: The Other Things. 1995–2018.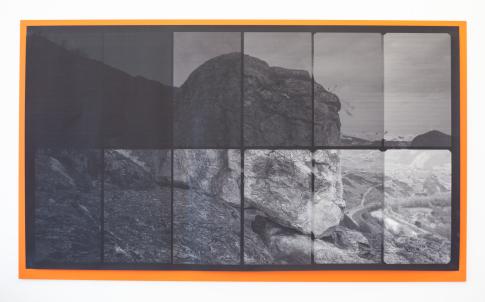 A Thousand Plateaus, Chengdu: Solo Show: Xiaoyi Chen: Map: Le Bloc Venetz.
Die
Art Basel Parcours
waren wieder fast das Beste, ich hatte allerdings ein ausgeliehenes Baby bei mir und bin Einhandoperationen nicht so gewohnt. Im archäologischen Museum hat sich der Kleine mit seinen Blicken an den Skulpturen festgesaugt und gekräht, wenn ich weiter wollte, sehr beeindruckend. Danach hat er zwei Stunden durchgeschlafen, sehr zu empfehlen. Ich konnte aber trotzdem und auch nicht mehr fotografieren.
Around
Fondation Beyeler zeigte
Der junge Picasso – Blaue und Rosa Periode
, 3.2.–16.6.2019.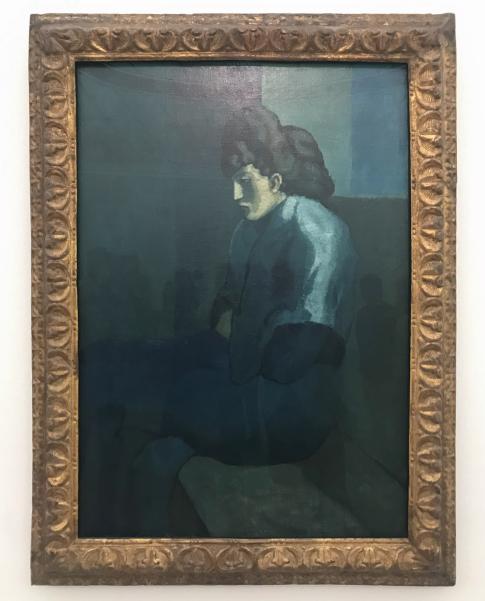 Sitzende mit Schal. 1901.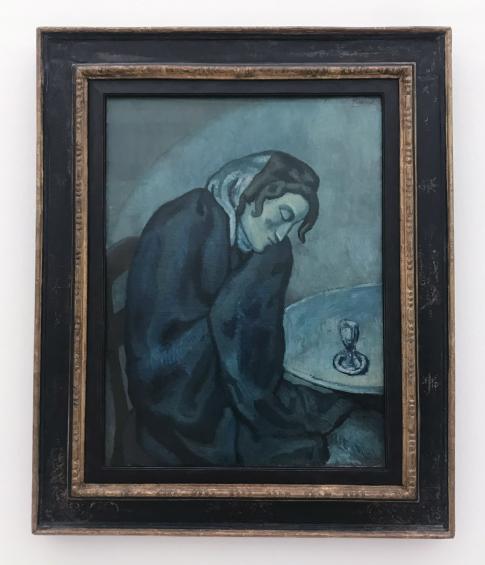 Schlafende Trinkerin. 1902.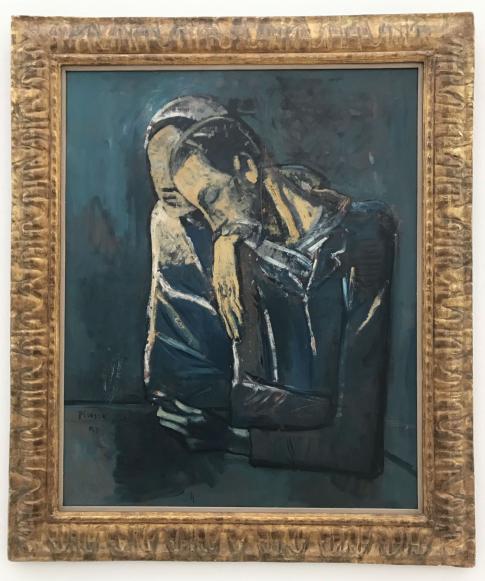 Das Paar. 1904.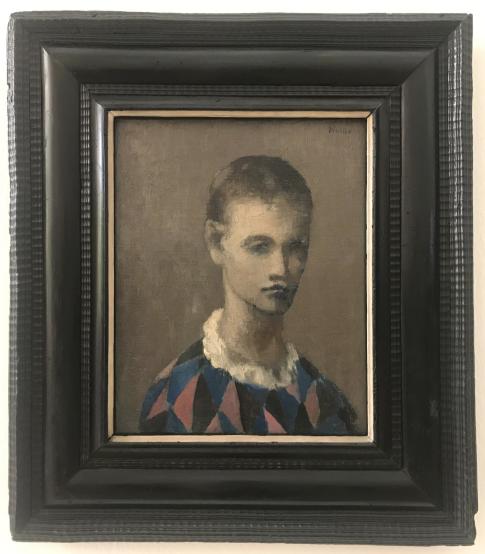 Kopf eines Harlekins. 1905.
Porträt Benedetta Canals. 1905.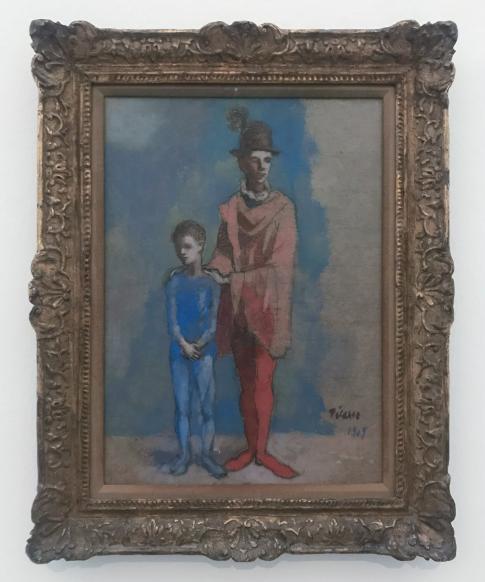 Komödiant und Kind. 1905.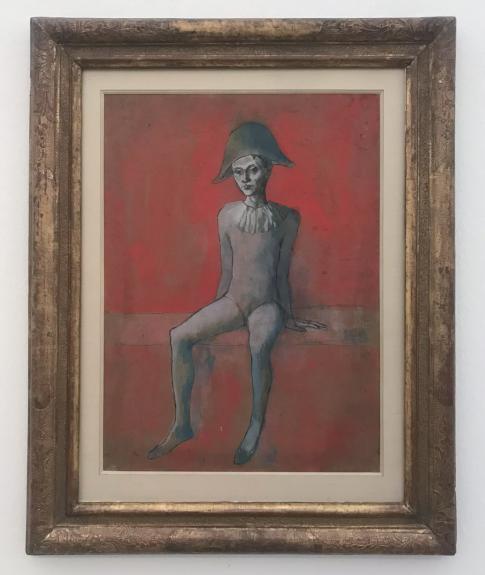 Sitzender Harlekin vor rotem Hintergrund. 1905.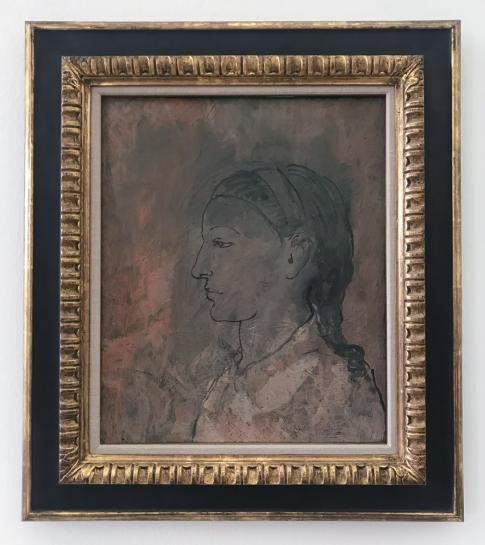 Frauenkopf im Profil (Fernande). 1906.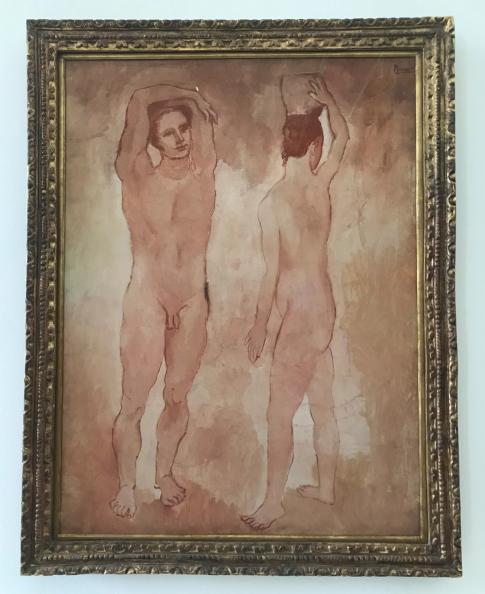 Die Jünglinge. 1906.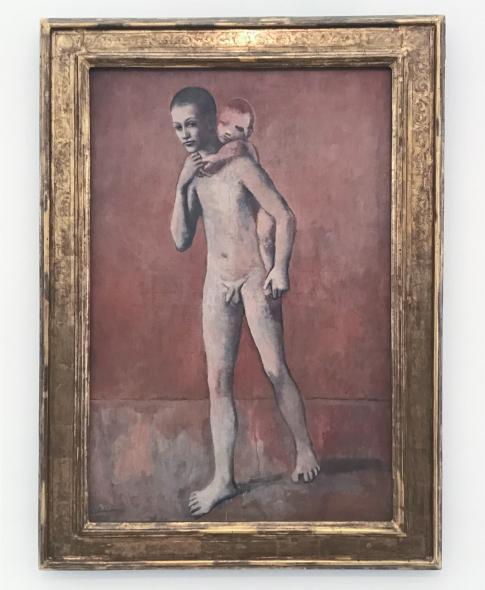 Die beiden Brüder. 1906.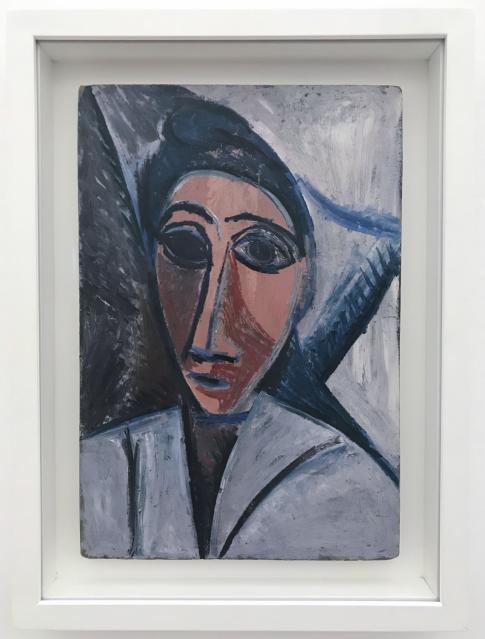 Büste einer Frau oder eines Seemanns (Studie zu Les Demoiselles d'Avignon). 1907.
Und nun ein Zeitsprung in die eigene Sammlung der Stiftung: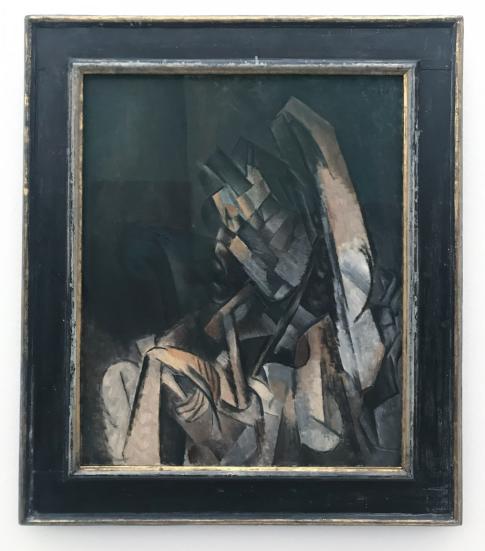 Frau im Lehnstuhl. 1910.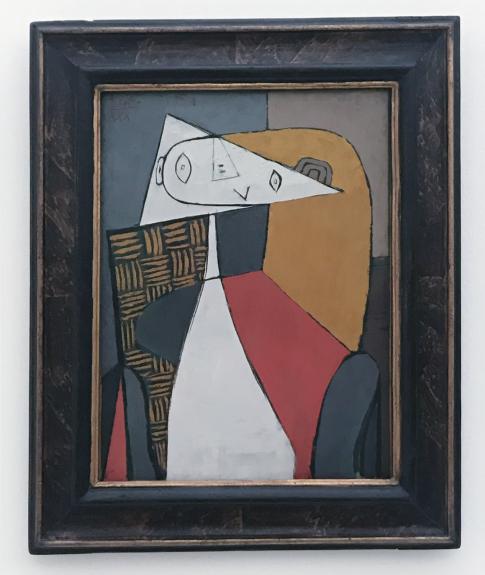 Figur (Sitzende Frau). 1930.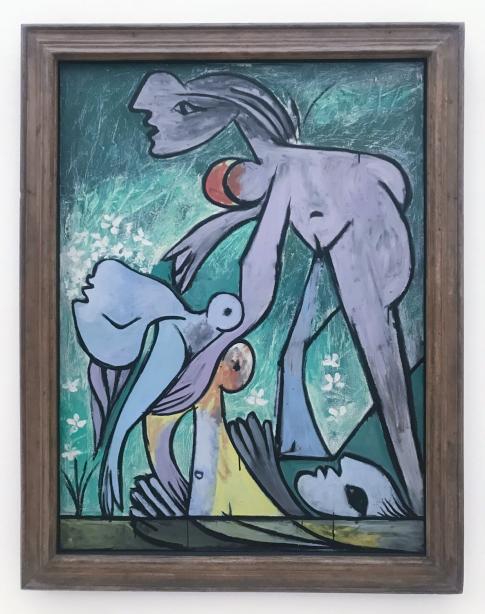 Die Rettung. 1932.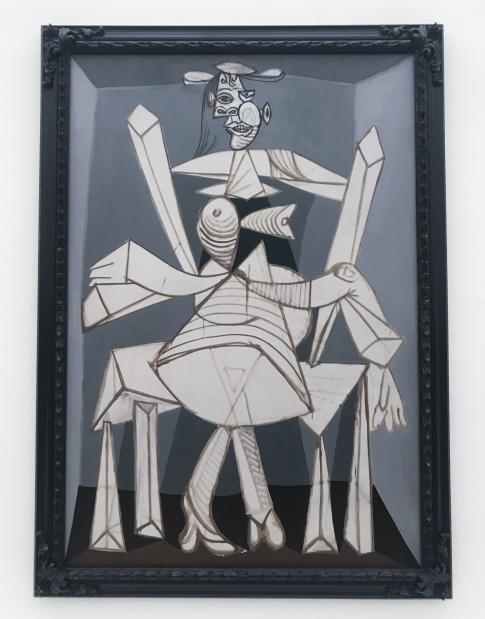 Frau im Lehnstuhl (Dora). 1938.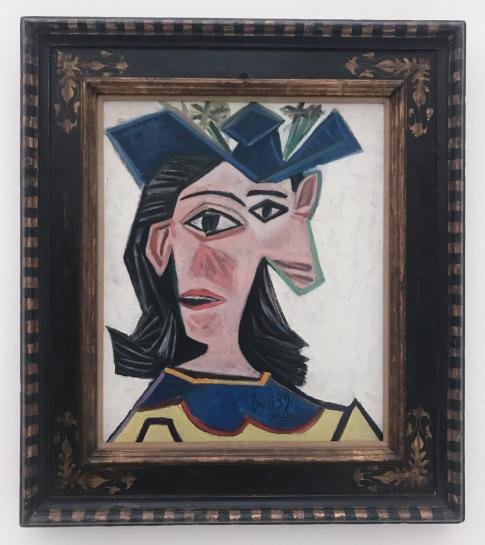 Frauenbüste mit Hut (Dora). 1939.
Im Kunstmuseum Basel Gegenwart lief
William Kentridge: A Poem That Is Not Your Own
, 8.6.–13.10.2019.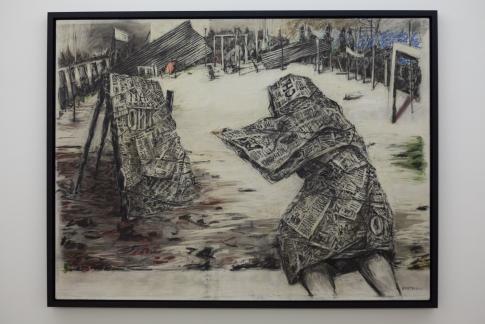 Anti-Waste. 1990.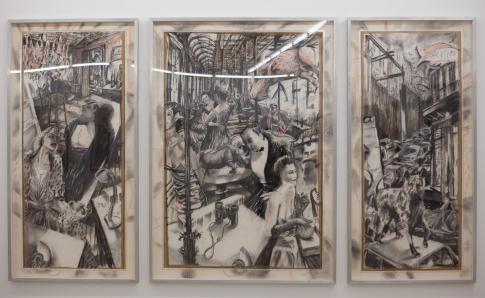 The Conservationists' Ball: Culling, Gamewatching, Taming. 1985.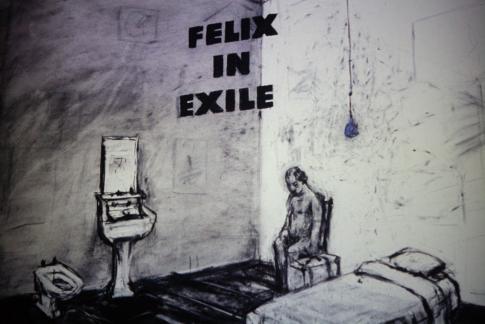 Felix in Exile. Filmstill von 35mm Film, 8:43 Min., 1994.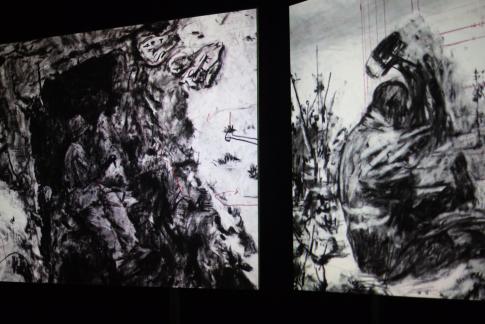 The Mouth is Dreaming (Work in progress). Filmstill von 2-Kanal Videoinstallation, ca. 7 Min., 2019.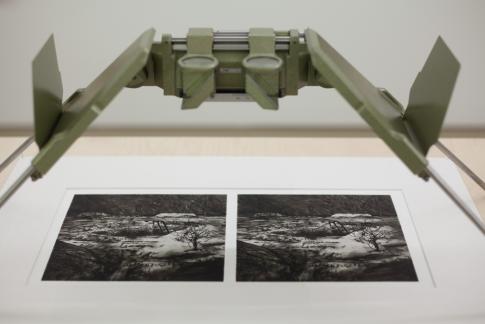 Studioroom. Selection of drawings, prints and objects from 1994–2018. Incl. reconstruction of studio set for: Drawing Lesson 50: Learning from the Old Masters (In Praise of Folly). 2018.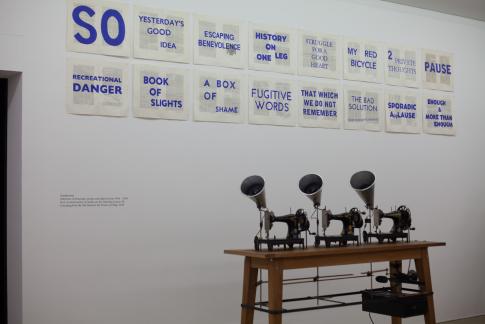 Ebd.
Right Into Her Arms. Still von Modelltheater mit HD-Video, 11 Min., 2016.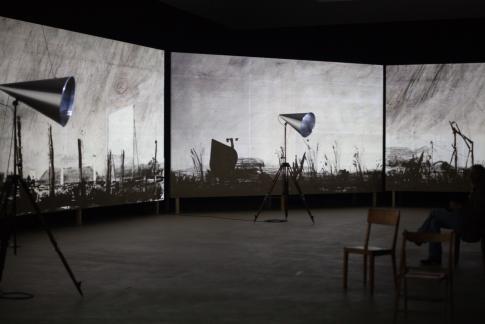 More Sweetly Play the Dance. Filmstill, Detail von 8-Kanal Videoinstallation, 15 Min., 2013(?).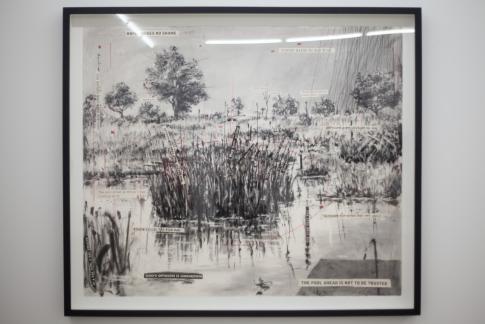 Drawing for: The Head & the Load (the pool ahead is not to be trusted). 2018.
--
Ich hätte die Schweizer nicht unbedingt für abergläubisch gehalten, dennoch gibt es kein Gleis 13 im Basel SBB: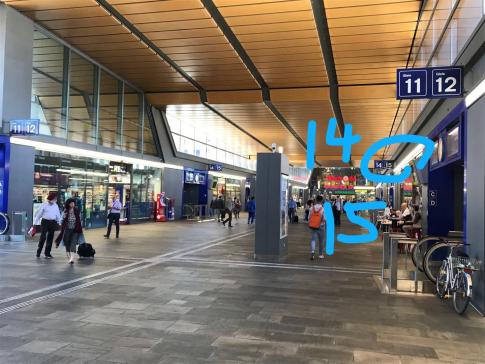 Eine weitere Bahnhofsbegegnung in Form einer Bürstenumwandlung versetzte mich glatt nach China: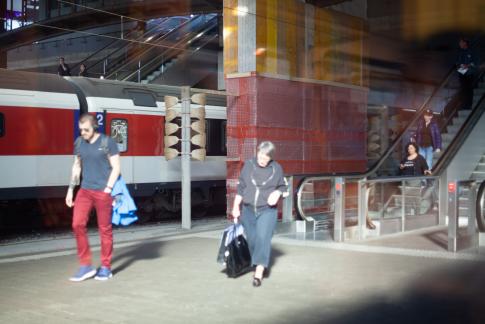 Außerdem hatte ich die Illusion der reinen Schweiz bislang zu gerne. Jetzt muss ich wohl doch auf Biowein umschwenken: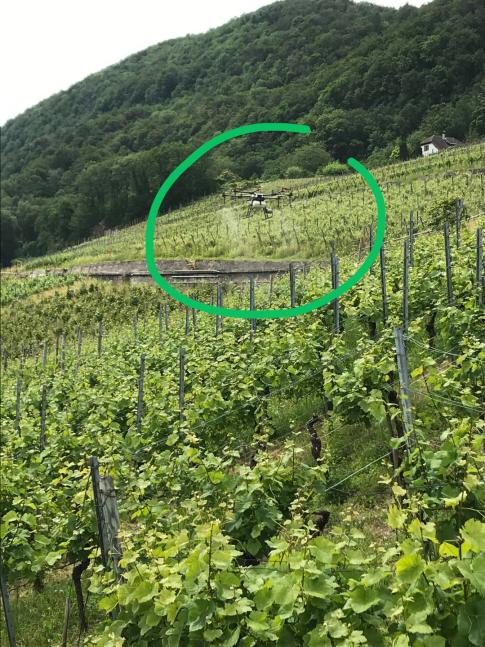 Natürlich gilt für alles und immer: Wenn ich einen Fehler gemacht habe, kann man mich gerne
kontaktieren
.
Siehe im Zuge dieses Beitrags auch 关于这个话题也看: Kunstsommer 2016: Basel ∣ 2016年艺术之夏:巴塞尔.
Tags für diesen Beitrag 这本文章的标签: Ausstellung 展览, Gegenwart 当代, Bildende Kunst 美术, Unterwegs 路上
... comment