Freitag, 7. September 2012
Culture Collide China – Panel in Cologne 14-9-2012
Presented by
Sound of Cologne
in cooperation with
CCDC Days 2012
.
Participants
:
Li Zhenhua
and
Susanne Junker
for fine arts and
Miao Wong, Elvis. T
,
DJ Wash
and
B6
for electronic music.
Stefanie Thiedig
and
Ralph Christoph
for moderation.
Time: Friday, 14th September 2012, 3–6 pm.
Place
:
Stadtgarten
, Venloer Straße 40, 50672 Köln, (+49) 0221 952994-0.
Topic
: 2 years after the
publication
, we would like to raise the question if a change has taken place? That the international art collectors were replaced by domestic art collectors was something we didn't see in 2010. The difference still is the same between the 1980th and -90th with it's collective discoveries in varying art collectives and the 2000th, wherein mostly every artist works for him- and herself. The consensus seems: Now everyone is the greatest artist under the Chinese sky, everything else is trash. Discovery followed by being discovered, followed by hype, followed by self-confidence … followed by questioning and doubt? I am really eager at what Li Zhenhua and Susanne have to say to this and much more.
At the same time, media art and all the separate parts of electronic music have found it's more or less large niches. You can find the whole line-up from underground till mainstream. In Beijing as well as in Shanghai, different labels, clubs and festivals have gathered an international reputation. With Miao Wong and Elvis T. from the Beijinger "Acupuncture Label", who are also organizing the INTRO Festivals and the Lantern-Club, with B6 from Shanghai, the most known and important electronic artist from his city, they represent the young guard on this panel.
The clip is online
HERE
.
For more information in German, check
here
.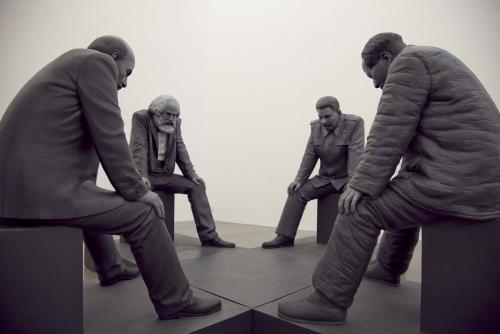 Taken at
Galerie Urs Meile
in May 2012. Li Zhanyang 李占洋: Four Great Thinkers 四伟人像. 2011.
Tags für diesen Beitrag 这本文章的标记: Ankündigung 通知, Gegenwart 当代, Multimedia 多媒体, Videografie 视频, Reise 专程, Häufig gelesen 频看
... comment