Samstag, 27. November 2010
The Launch – Impressions
Thank you all for coming
to the booklaunch on Thursday, November 25th 2010, 7:30 pm at the Bookworm in Beijing of
Culturescapes China: Chinas Kulturszene ab 2000.
Culturescapes China: China's Cultural Scene Since 2000.
Katharina Schneider-Roos and Stefanie Thiedig (eds.)
Basel: Christoph Merian 2010.
After a short introduction about the origins of the book and an overview about the content, we had three special guests on the podium: Martin Brandes, Li Yinan and Barbara Münch – who gave more details about their special disciplines. A presentation in the background was showing all the authors' article titles and the pictures inside the book.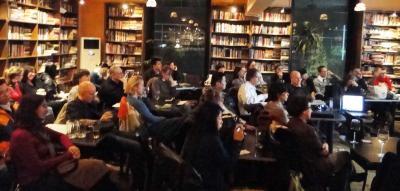 The origins
After Katharina Schneider-Roos and I first met in February 2009, the publication project is now concluded on November 2010. Our starting point was that the art scene in China and especially Beijing as the centre of culture and art was and still is on the verge of a change. We wanted to show a special perspective of the art scene through people who are actively involved, who witness the scene and participate in it – so we gathered almost thirty authors taking a ten years retrospective in the different disciplines of fine arts, film and photography, literature and theatre, music, and architecture. Our approach was commemoration – we believe that a time of reflection started and we wanted to take this to reflect ourselves, to remember the 2000s – in our own way: subjective and selective. What we were looking for was an overall structure of art works and working in the arts, and of form and content.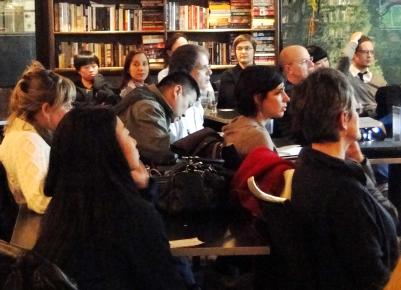 Thank you!
Katharina and I would like to express our deepest gratitude to our authors and all other contributors – we all worked for free, because we wanted to share our experiences.
Many authors also contributed photos – thank you very much! A very special photo-contribution-thank-you goes to:
- Katharina Hesse
- Shu Yang
- Uli Sigg and staff
- Doro Adam and Barbara Münch
Thank you also Cathrine Lutz and Eva Lüdi for your great translations and Johannes Schneider and your company
Webducation
for sponsoring 16 extra pages of color print!
My special thanks goes to Katharina who wishes us all the best regards and says hello from Basel!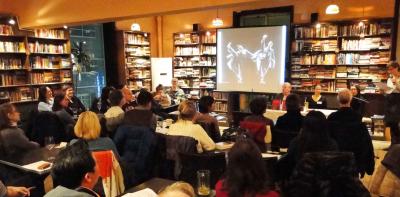 Content overview, introduction
Contemporary Chinese art has experienced a rapid hype – art and commerce approached each other, and so did the official side with the independent scene.
From 1950 until the end of the Cultural Revolution, there was no connection with the outside world in China. In the late 1970s after Deng Xiaoping's Open Door policy, cultural basic work had to be done, where after the 1980s was a time of great social openness. Starting from universities and connected with the demand of change, everything was absorbed, which was available after China's long isolation. A cultural fiver broke out – the
New Wave
.
The shock of 1989 was a relapse into the underground, followed by an inside and outside emigration in the 1990s. While many artists went abroad, those who stayed still did find a way to express themselves: the first artist's communes started, Beijing East Village and Yuanmingyuan, exhibitions in apartments of friends, experimental spaces for painting, performance art, lyrics, music and theatre in China.
In the first years of the new century, artists came out of the isolation and started to become part of the establishment. Fine arts are the prime example of the change the contemporary art scene went through: from a sub-culture in the 1990s to a cultural industry in the 2000s.
The noughties were a time of commercialisation and globalisation of apparently boundless possibilities. The time of collective exchange of thoughts and working inside groups was over, the perception of Chinese artists as individuals in the international scene had begun – away from the transfiguration of exotic romanticism.
Discussions if the beginning of commercialisation is the death of avant-garde and how prices and quality affect the work of artists are now replaced by questions of the function of art in China, of the Chinese self-consciousness, the communicated values and public education.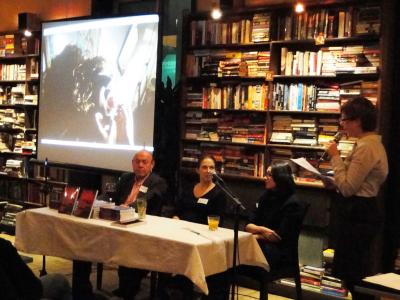 Panel discussion
According to the order of the articles in our book, we first spoke to
Martin Brandes
, who wrote the article about Chinese film economy. Martin lives in Beijing since 2001. Since 1975, he has been working in film distribution and in cinema and TV production, as well as writing articles for film economy magazines and his own film scripts. Martin is a script evaluator of the Pro 7/ Sat1-group, a China correspondent of various magazines, and the senior advisor of the national China Documentary Film Commission in Beijing.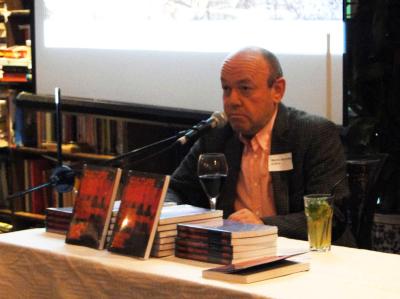 Chinese film went a long way during the past ten years. The sole status of being a propaganda instrument from the official side blurred and film became a commercial good. China is now number 3 of the film producing countries. Martin described how the commercial film market work, how strict censorship is, and what role SARFT plays. He also said a few words to how does the illegal market works. In his article, Martin describes the Chinese film economy going through massive changes in structure and focus – at the launch, he stood question and answer about figures and tendencies and also answered how the WTO accession 2001 has changed the Chinese film economy.
Our second guest was
Li Yinan 李亦男
, who wrote about independent theatre in Beijing. Li Yinan, who has studied German Literature, Dramatics and Sinology in Beijing, New York and Hamburg, works as a dramaturge in Beijing. She lived in Munich from 2003 working as a theatre and art critic, since 2005 she lectures in Chinese Theatre at the University of Munich, the University of Frankfurt and the Central Academy of Drama in Beijing. Since 2007, she is director of Theatre Arts in Beijing.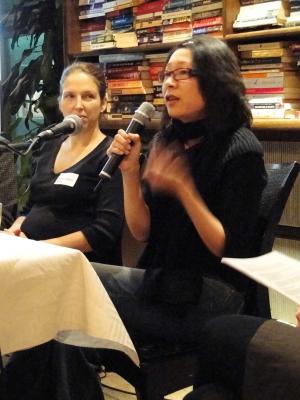 Yinan writes about young theatre people trying to find their own voice and described the current status quo and gave a quick overview about how education had changed over the last decade and what still needs to be done. There are young people coming from all over China to Beijing to see and play theatre. All they know, she says, is the few DVDs by Lin Zhaohua and Meng Jinghui. Li Yinan tells us how Beijing sticks out in being the capital for independent theatre. She has organised workshops and the new dramaturgy program at the Central Academy of Drama attempting to bring a change to the Chinese theatre scene, which she introduced to the audience.
Barbara Münch
as our final guest author on the podium wrote about the contemporary architectural scene in China. Barbara studied Architecture, Economics and Engineering. Since 2000, she lectures architecture at universities in Berlin and Beijing. She is a researcher and writer about architecture and city development in China and works as an independent architect.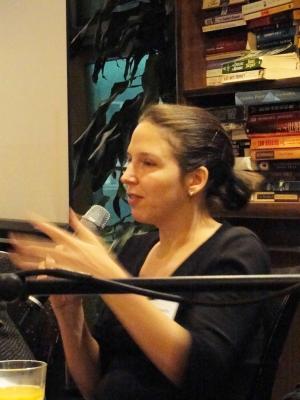 In the last couple of years, architecture has made its step from being a handicraft towards a discipline of art; exciting architecture can be found in China … Barbara talked about the still omnipresent clichee of prestige buildings by famous Western architects, described the change happening in Chinese architecture. She also spoke about how architecture helps creating a unique environment for the people – in big cities and what is going on in the suburbs and the hinterland. Moreover, she described the historic circumstances of architecture, the different views in protection of heritage: in a structural sense of how Chinese architects work in Local Design Institutes (LDIs) and independent bureaus; and in form and content if there is a Chinese architectural language.
Once again, thanks to everyone present for coming. I hope, you enjoyed the evening and went home with a few new impressions. The book is available at
Amazon
or contact Katharina or me directly.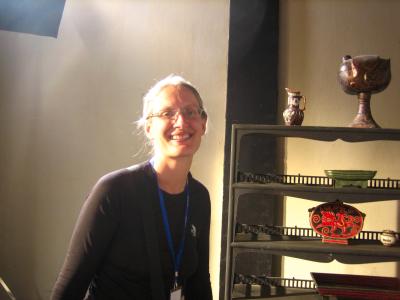 Photo provided by Katharina Schneider-Roos.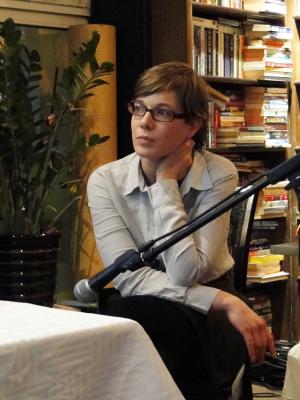 That's me, Stefanie Thiedig aka 由甲.
All pictures except the last one of Katharina were taken by Julia Odenstein.
Tags für diesen Beitrag 这本文章的标记: Architektur 建筑, Literatur 文学, Film 电影, Theater 话剧, Häufig gelesen 频看
... comment